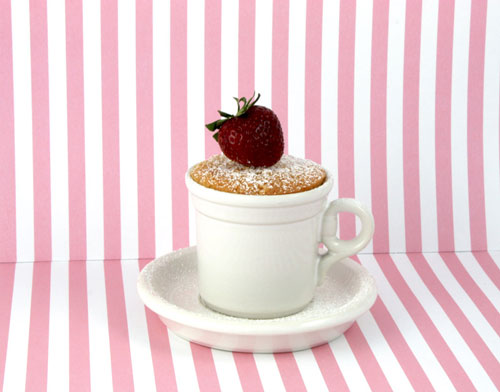 La Mia Vita Dolce encapsulates all sorts of prissy & edible passtimes in to one perfect Saturday tea-party themed brunch dessert. All this is missing is a pair of white tea gloves & an a-line skirt. And a southern accent – but don't attempt that unless you're legitimately good at it, or unless you're actually from the south.
Warm Strawberry Cakes – Baked in a Teacup
(from Cupcakes – Susanna Tee via La Mia Vita Dolce)
Makes 6 cakes
8 tablespoons unsalted butter, softened, plus extra for greasing
4 tablespoons strawberry conserve
generous 1/2 cup superfine sugar
2 eggs, lightly beaten
1 teaspoon vanilla extract
generous 3/4 cup self-rising white flour
1 pound/450 g small whole fresh strawberries
confectioners' sugar, for dusting
Preheat the oven to 350°F (180° C).  Grease 6 heavy, round teacups with butter.  Spoon 2 teaspoons of the strawberry conserve in the bottom of each teacup.
Put the butter and sugar in a bowl and beat together until light and fluffy. Gradually add the eggs, beating well after each addition, then add the vanilla extract.  Sift in the flour and, using a large metal spoon or spatula, fold it into the mixture.  Spoon the batter into the teacups.
Line the bottom of a roasting pan with a tea towel.  Stand the cups in the roasting pan, then pour enough hot water to come one-third up the sides of the cups.  Bake the cakes in the preheated oven for 40 minutes, or until well risen and golden brown, and a skewer, inserted in the center, comes out clean.  If over-browning, cover the cakes with a sheet of foil.  Leave the cakes to cool for 2-3 minutes, then carefully lift the cups from the pan and place them on saucers.
Place a few of the whole strawberries on each cake , then dust them with sifted confectioners' sugar.  Serve warm with the remaining strawberries.