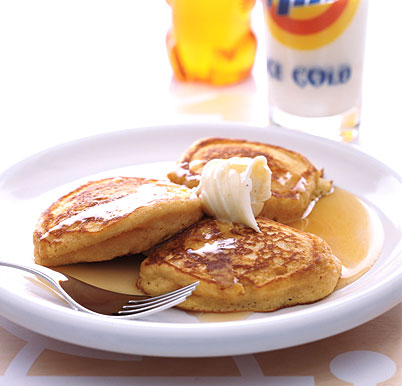 What to make for Father's Day breakfast in bed?  THIS.
Sweet-Potato Pancakes with Honey Cinnamon Butter
via epicurious (photo by Dana Gallagher)

Ingredients:

For the honey-cinnamon butter:
1/4 cup unsalted butter, at room temperature
1 1/2 teaspoons honey
1/8 teaspoon ground cinnamon

For the sweet-potato pancakes:
2 large eggs
1 cup buttermilk, plus more if necessary
2 1/2 tablespoons vegetable oil
1 cup store-bought pancake mix
1 small pinch ground nutmeg
1 small sweet potato, boiled, peeled, and mashed (about 1 1/2 cups)
Directions:
Beat together the butter, honey, and cinnamon until smooth. Transfer to the refrigerator until ready to use
In a large bowl, whisk together the eggs, buttermilk, and oil. Stir in the pancake mix and nutmeg until just combined. Fold in the sweet potato. If the batter seems too thick, add more buttermilk until it reaches the desired consistency (it should be thick but still pourable).
Place a large, greased griddle or pan over medium-high heat. Working in batches, spoon the batter onto it and cook until the surface of the pancake is covered with bubbles, 2 to 3 minutes. Flip and cook the other side until golden, 1 to 2 minutes more. Serve, topped with the honey-cinnamon butter and a little maple syrup.