Soup is my favorite kind of food (if you can call it that). There is nothing I enjoy more than a nice, warm bowl of soup during the colder months. This vegan white bean chili will leave you daydreaming of Mexican beaches and 80-degree weather. Don't say I didn't warn you! Image and recipe via A Cozy Kitchen.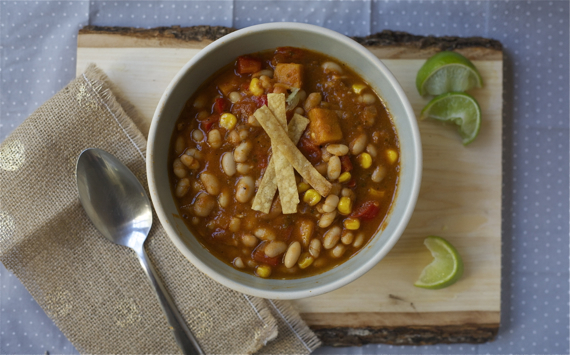 Ingredients: 
1 large fresh pasilla chile
1 15-ounce can chopped tomatoes (in juice)
1 tablespoon olive oil
1/2 yellow onion, diced
1 red bell pepper, diced
1 garlic clove, minced
2 cups vegetable broth
3 tablespoons apple cider vinegar
1 cup of cubed butternut squash
1 15-ounce can of Great Northern beans
1 15-ounce can of white navy beans
1 tablespoon, plus 1 teaspoon, ground cumin
1 teaspoon ground paprika
1/4 teaspoon ancho chile powder (If you're sensitive to spice, add 1/8 teaspoon)
Sea salt
1/2 cup frozen sweet corn
Vegetable oil
2 tortillas, cut into 1/4-inch strips
2 limes, cut into wedges
For instructions click here.