Luxury Lifestyle expert Mina-Jacqueline Au is one sassy sista. Attending her baby's 'coming out' party earlier this year only solidified this notion further – finding myself sipping on Traminette bubbly, signing a custom Blue Sky Papers guest book, noshing on a $2800 Palermo's Bakery cake to prep my pallete for the Marky's caviar tasting. Mina  wore a feathered vest & sparkly heels, her son Tyler wearing TWO outfits… one from Ce Ce Co and the other from Mina's all time favorite Tartine et Chocolat. He also had a backup wardrobe by Papo D'Anjo that was overnighted from Portugal to him for the event. I mean, that's luxury right out of the life gate.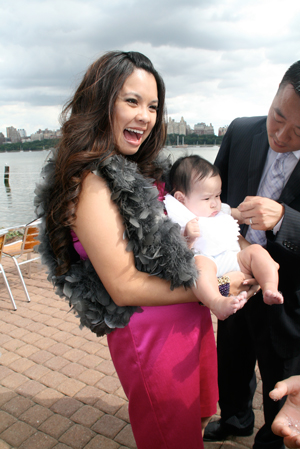 So, I had to sit down with this gal to get the scoop on how she's managed to stay so fab & focused during the wild world of motherhood. Below, Mina dishes on the top ways to keep the luxe alive — while still keeping her sanity.
Shoes make the outfit: No matter what a mess mommies look like from motherhood, a good pair of shoes will add polish. My friends and I had a casual get together in the Screening Room of our condo and I was working a casual look all day because my nanny was off, but I had to add a little something. So, I walked in fabulously late with baby in hand, no make-up and Louboutin wedges. They thought I was ready to go out!
Travel in Style: Whether you have the pleasure of leaving your baby with a trusted nanny or you have the pleasure of  bringing your baby with you… travelling doesnt have to be hectic. Pack a light assortment of staple pieces for yourself and LOTS of fabulous accessories.  Scarves, bags, hats and jewelry can be key to vamp any outfit. My favorites are pieces made of colorful semi precious stones, like those from Bounkit and Gypsy that can be dressed up or down.
Children's Wear 101: Wearability, Craftmanship & Class: We live in a society that is all about mass. Food, clothes, bags, shoes… everything is produced by the thousands. A big part of luxury isn't really defined by price point,  but the craftsmanship. I love the classic and lines like Papo D'Anjo, Tartine et Chocolat and Velvet & Tweed, they all remind me of clothes that my mother used to put me in. Now I load up on these brands whenever I am in Europe. They are so classy, almost heirloom quality that can be passed down for generations. Totally worth the extra dough.
Go for an amazing diaper bag: Forget the uber functional vinyal or poly bags you find at chain baby shops. Think diaper bag as handbag that you happen to stuff with diapers. Gucci makes some that are super functional, and if you really know luxury and you have your "Birkin privileges" at Hermes, you can certain have them customize a Birkin diaper bag for you. But order in advance, the turn around time is a year plus.
Don't forgo shopping: I shop online. Thanks to the declining economy, online retailers are more competitive than ever with sales and free shipping.  Neiman Marcus and Vivre.com. are my top picks.  Visiting Vivre.com is a luxurious experience on its own. They have the most divine jewelry and leather goods, the best part, it's curated by the experts that know everything about luxury and living life.
Make your home your sanctuary: Spending more time at home, with a child, means keeping things cozy, functional and clean.  I fear that the normal professional stretch household cleaners are filled with too many toxins for my son's little body, so I've switched everything over to organic. It costs more than normal cleaners, but stocking the house with baby-safe wipes and detergents to keep everything spic & span gives me less anxiety. I researched the best organic baby foods for the little man and feed him nothing but Earth's Best and Sprout. Sprout is actually developed by Tyler Florence, who uses organic & alternative cooking methods to make it extra safe & digestible.