10 easy ways to make hands look younger (without trying too hard)
Aging skin effects not just your face but your whole body. But, just like proper skincare for your visage, the best ways to make hands look younger requires regular effort on a daily basis. Little things like keeping a hand cream in your purse (and using it!) can help keep your hands looking smooth and young.

Young hands forever right this way!
1. Moisturize every time you wash
Washing your hands throughout the day can be drying, especially if you use harsh soaps. Keeping a lotion right next to the sink (or with you when you're out and about) makes it hard to forget. You wouldn't wash your face and not moisturize, right? Think in the same way for your hands.
2. Use lotion with SPF (or use dedicated SPF)
Better yet, make sure that lotion has an SPF worked in to keep damaging sun rays at bay. Reapplying your lotion with SPF multiple times a day does double duty for keeping your mitts hydrated and protected. You can double this up with a ceramide skincare routine, too, if you want.
3. Cuticle hydration
Ragged cuticles can be painful, besides the fact that they're none too pretty. Keeping your cuticles moisturized helps to prevent chapped skin and hangnails. Plus, if you're a nail picker or biter, replacing that negative action with a beneficial action of massaging in nail butter kills two birds with one stone. Just make sure you aren't massaging oil into an open or sore cuticle.
4. DIY cuticle oil
If going through multiple tubs of Burts Bees Lemon Butter in a week isn't in the budget make your own cuticle oil. The best oil for your nails is easily jojoba. It's extremely hydrating, soothing, and easily absorbed by the skin. It's also very stable in different temperatures (so you can bring it on the go) and has a long shelf life which makes it great for DIY projects. Just decant some jojoba oil into an old (clean!) nail polish bottle and add in a drop or two of your favorite essential oil for fragrance.
5. Protect hands during gel manicures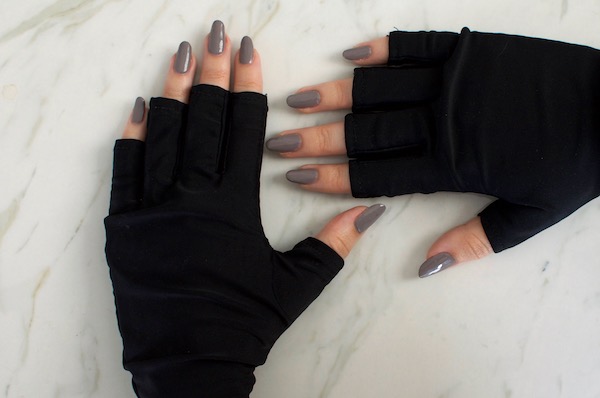 Gel manicures use lights to cure polish giving you weeks of chip free nails. It's basically the best invention to come to nail artistry this decade. But, the lights (UV or LED) are up close and personal with your hands. If you get gels regularly you should absolutely wear an SPF on your hands. Or you can go all out OTT and get UV protecting fingerless gloves. Heck, wear them while you drive too!
6. Wear gloves while cleaning
Washing the dishes, cleaning the bathroom, or working with any harsh chemicals should be done while wearing plastic gloves. They save your skin from exposure to harsh drying chemicals, and you're protecting your nails at the same time.
7. Winter gloves are a must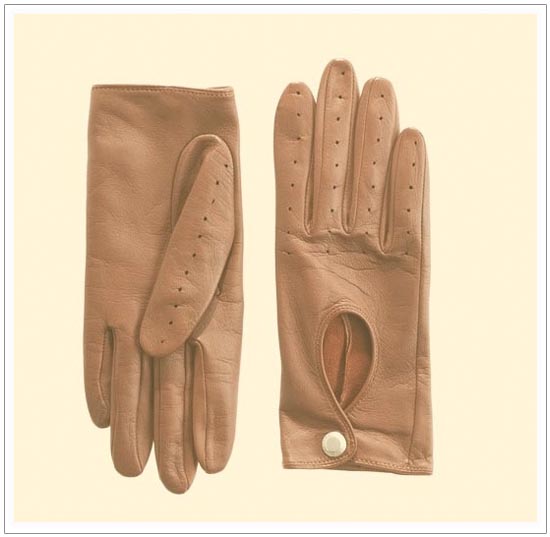 Harsh winter air can cause your hands to get dry, cracked, and raw. Wearing gloves at the first hint of winter chill will keep your skin protected whenever you go outside.
8. Exfoliate regularly
There's no reason you can't use skincare on your hands. If you make hands look younger your priority, get some exfoliation in your routine.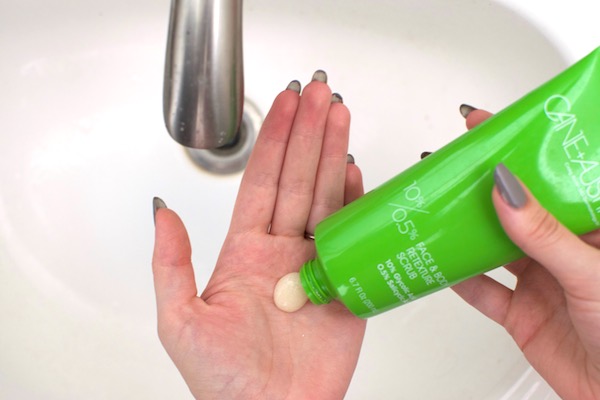 A physical and chemical exfoliation work well on rough skin and helping to keep hands from getting that crepey look. The Cane+Austin Face and Body Retexture Scrub can be used once a week to aid in cell turnover.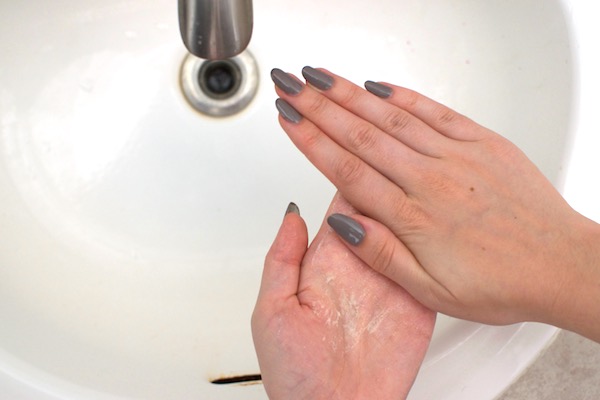 Just be sure to avoid if you have any cuts or sore cuticles.
After scrubbing your hands, be sure to follow up with moisturizer!
9. Extra face mask = extra hand mask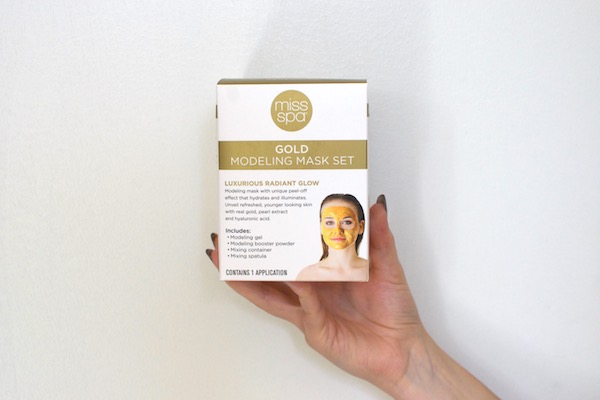 Who hasn't dished up too much face mask for their face? If you're doing a face mask use any extra product on the backs of your hands so they get the same treat. Just follow the same instructions as you would on your face (but don't rush out to buy more golden facial kits, they're a waste of cash).
10. When in doubt use serious skincare
If you really need to bring out the big guns to make hands look younger opt for powerful skincare. Retinol works well for your face, why not the backs of your hands. This doesn't need to be an OTC, expensive endeavor either. The Ordinary has gentle but effective retinoids around the ten dollar mark. Apply before bed while doing your night time skincare routine.
Love this article? For more beauty, style, travel, and trending topics check out The Luxury Spot on Facebook. Like us and we'll love you back!