Guys, National Donut Day is June 2 and we're ready to celebrate this holiday as the most important one of the year.
This is the future we were promised, one lined with happiness and holiday joy. We're not talking about Christmas, people, we're talking about National Donut Day, and it's totally a real thing. This level of goodness simply cannot be made up, so we're suggesting the most important, noteworthy ways to celebrate the holiest of carb-loaded days. Get your elastic outfits ready for the calories, although most of these items are perennial and won't make you gain any weight.
According to experts, "National Doughnut Day started in 1938 as a fund raiser for Chicago's Salvation Army." Who knew eating donuts like a wild person could be in the spirit of giving back?
Lounge on this gigantic frosted donut beach blanket
This is the towel you need for your beachfront celebration of National Donut Day. It's big, beautiful, and won't cause Type 2 diabetes. $25 at amazon.
Literally every day can be National Donut Day with this mug
Imagine a secret garden of happiness and warmth just for your precious donut? Now imagine that real estate is next to your #blessed coffee. Amen, right? $14.99 here.
Or just wear this donutastical Care Bears shirt everywhere on June 2, because it's your holiday
But honestly, is this not the cutest thing ever (aside from last week's pink pineapples, obvi)? EVER. $29 at truffleshuffle.
Be super intense about it and get a pink pedicure with these donut-themed pedi spacers
Some genius out there really thought this holiday through, because they went as far as making donut-themed pedicure spaces. We are here for it. We're clapping. We're sitting back with popcorn pondering why it took so long for the universe to get us to this moment. $9.99 for a set of 8 here.
Donut bath bombs exist, so you can literally bathe in goodness
If you're the type to sit back and bathe the holiday madness away, we feel you. National Donut Day may, in fact, be best celebrated in a hot tub filled with donut bath bomb goodness. This one is $12.99 by Arianna Skincare.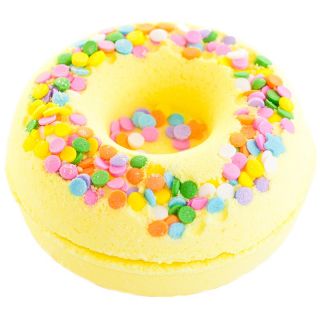 There are free donuts to be had in most major cities
Yes, kween, yassss! Free donuts all around, because both Dunkin Donuts and Krispy Kreme are passing out free donuts left and right to get you in the holiday spirit this Friday. There's a chance this is funded by the drug companies that produce insulin shots, but since we're not #fakenews, we can't 100% say either way.
Light a donut candle to start the holiday off right
If your holiday custom is to light a candle, stock up on these, because OMG DONUT CANDLES EXIST. $21 at shopbop.
Store your makeup in this cheap and chic donut makeup bag
Or art supplies, whatever. We happen to think this is the perfect receptacle for hot pink lipsticks though. $9.99 at Target.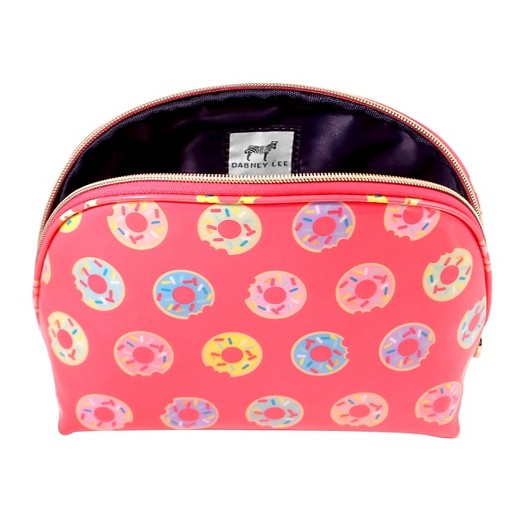 Send stems and donuts, because romance is festive
Customers of UrbanStems.com can either get The Amber (orange roses) with a 4-pack of yummy donuts for $45, or they can choose any of UrbanStems' beautiful bouquets and add on the 4-pack of donuts for $10. Free delivery of flowers and donuts; what could be better? $45 here.
 Join the National Donut Day World Donut-Eating Championship
It's a real thing. Major League Eating is teaming up with The Salvation Army for the first-ever National Donut Day World Donut-Eating Championship, slated for June 2, 2017 at Santa Monica Place, located at 395 Santa Monica Pl. in Santa Monica, California. Competitors will be in place and ready to go at 12 noon. Then they'll have eight minutes to consume as many glazed donuts as they can. Will there be a new world record in the donut discipline? Let's see how the donut crumbles!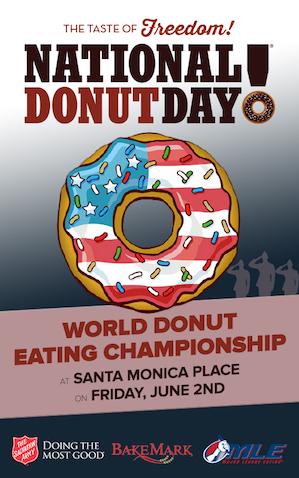 Go hog wild and adorn your walls with donut decor that'll last forever
There is literally no reason not to put donut artwork on your walls. Sheetrock was invented for this. These donut prints are customizable and the perfect way to bring National Donut Day into your bedroom (as if you weren't going to bring it in anyway). Starting at $14.99 at art.com.
Love this article? For more beauty, style, travel, and trending topics check out The Luxury Spot on Facebook. Like us and we'll love you back!