I was always lucky to have makeup savvy friends to show me the ropes when it came to the basics. For example, always wear lip liner with red lipstick. Never, under any circumstances, use the little brush that comes with your eye shadow. One rule I always employ is that there's always time for a make-up application. We're not talking anything heavy—everyone knows that less is more. When I'm running late, which is more often than not, a quick dab of gloss and a couple coats of mascara are enough to get me through a day in public without being completely humiliated.
Despite my dire need for mascara at all times, I have a love-hate relationship with it. Mascara can be a tricky minx. I can't tell you how many times I've went mascara happy and ended up with one big eyelash united by a thick coat of gunk. When I'm ready to remove the mascara, I often have to resort to ninja-like tactics to rid my face of the remnants most mascara leaves behind. Sound familiar?
In a stroke of luck, I stumbled upon Kiss Me by Blinc. I know… mascara is mascara is mascara, right? Wrong. Unlike mascaras of the past, Kiss Me creates a tube around the lash. What does this mean for you? It means that your lash is protected against smudging, tears, and any other casualties your eyelashes may face after a couple of cocktails. When it comes time to wash your lashes, the mascara tube slides off: no muss, no fuss. Unlike other tube mascaras I've tried, this one is also completely clump free– which means no nappy lashes.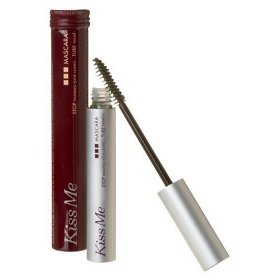 Blinc Kiss Me mascara in Green, $24
The Kiss Me line offers 6 different colors: , , , , and dark green. If you're a mascara novice, you may be a little hesitant to stray from black. Black is the safe color, but all it takes to wear something bolder is a little education on what enhances your eyes best.
Brown eyed girls, my people, I'll start with you. There's a reason there's a song named after us. Brown is a neutral color, so even though we may get light-eyed envy every once in awhile, we actually can pull off the widest variety of color. Try purple, green, blue, or any color with a gold undertone. Blue-eyed girls—stay away from blue! It'll wash the color of your eye out as opposed to making it pop, which is what you want. Try out a dark green or brown. If you have green or hazel eyes, try a plum mascara.
A few more suggestions—before applying mascara, take your blow dryer and blast your eyelash curler with heat for a couple of seconds. This will help form a longer lasting curl. When you're ready to apply the mascara, twist the mascara in the tube instead of jamming the wand in and out. I know a jamming motion comes more naturally to some of us, but it'll add air to the mascara and decrease its lifespan. Wiggle the wand through your lashes from root to tip. If you use more than one coat, wait until the first coat dries completely.
And there you have it! Go forth to Sephora and purchase one (or all) of Kiss Me's revolutionary mascaras for $24 each.
Disclosure: All products were provided for review. No monetary compensation was received for this review. All opinions belong to the author.