You'll want to try these easy DIY pedicure hacks to take your tootsies to the max.
Hooray for the spring thaw, because it's finally open-toe season again! If you're in desperate need of a pedicure (who isn't after all those frigid months?), I've rounded up some of the easiest DIY pedicure tips to keep your pedi looking perfect for way longer than the 1-2 weeks you might normally squeeze out of a salon visit.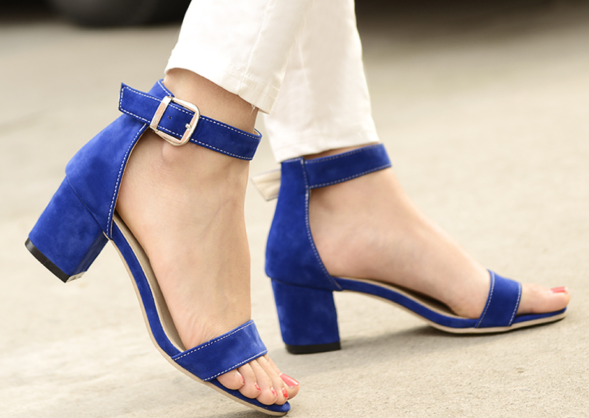 Forget about expensive, one-time use foot peels.
If you've heard of baby foot or similar products, they can work wonders when it comes to peeling off months of calloused skin, but they're $20+ each time and that adds up fast. You can easily make your own low pH (read: somewhat acidic) soak with household ingredients to get just about the same disgustingly good satisfaction and uber-soft heels for pennies on the dollar. You'll need a shallow plastic container to soak your feet in, a bottle of Original Listerine (trust us, NOT the blue or green mouthwashes), a bottle of vinegar (any kind — the cheap white table stuff is fine), and some warm water.
Simply combine 1 cup of your Listerine, 1 cup of vinegar, and 2 cups of warm water. Submerge your feet for 20-40 minutes (depending on the level of callouses you've managed to build up over the course of the winter), then use your hands to gently massage the previously hardened skin off your newly softened feet. Gross, but amazing. You're welcome.
Important note: do not use other mouthwashes — for whatever reason, I've found they don't work as well, and the blue and green dyes will stain your skin for a day or two. Not cute. Also, don't try this trick if you have open sores or cuts on your feet — the vinegar will sting pretty badly if you have an open wound.
Keep a wet/dry file on hand.
If you're going to make one investment in your home pedicure kit, let a pedicure file with wet AND dry capabilities be it. Ideally you can tune up your feet a couple times a week in the shower instead of running back to a salon chair all the time. We love the Silk'n Pedi Pro because it's made just like the super pricy salon ones, but is easily stored in your shower and maneuvers well around curves like heels and toes. $49 at Kohls.com, but you'll use it through your entire spring/summer season and save far more than you spent by stretching the life of your pedis.
Keep some cotton swabs and petroleum jelly handy if you're painting your own nails.
Hate the messy cuticle thing that always seems to happen? Same, but there's an easy hack for your DIY pedicure lifestyle — just trace your cuticles with vaseline before applying polish and any excess will wipe off in a cinch when your nails are dry.
Stained nail beds?
No problem. If you wore deep, dark polish all winter and are now rocking yellow stained nail beds when you're trying to switch over to pink and lilac, don't worry — you need baking soda, peroxide, a few spare minutes, and a good scrub brush. Mix equal parts, let the mixture sit on your nail beds for 15-20 minutes, then scrub in a circular motion for 60 seconds or so. Voila!
Add a gel-like top coat.
Little known secret — you can add gel formula top coats and base coat enhancers to ANY nail polish, even the regular cheapies. If you're heading to a salon bring your own UV-free topcoat with you, if you're working on your tootsies from home, use the basecoat + topcoat for an easy extra week of effortless wear. We happen to love the new Morgan Taylor React Extended Wear base and top coats because they're easy to use, affordable, and really do last for days and days beyond the norm, keeping your DIY pedicure alive and kickin' way longer. Also, they're free of a lot of the 'junk' you'd find in some other nail polish brands' formulas, and that's positive. $11.90 at Ulta.com

Love this article? For more beauty, style, travel, and trending topics check out The Luxury Spot on Facebook. Like us and we'll love you back!