It's beginning to look a lot like Christmas!!! And well, we all know what that means: it's time to turn your house into a festive winter wonderland. Forget competing with the Griswolds this year however. If you're broke as a joke like me, you can still get into the holiday spirit without dropping a ton of cash. Yep, for realz.
We hit up Dr. Christmas, comprised of design team duo Bob Pranga and Debi Staron, whose A-list clientele include the Karadashians, Heidi Klum, Kate Hudson and more, to share their top 5 holiday decorating tips for gals on a tight budget. Here goes!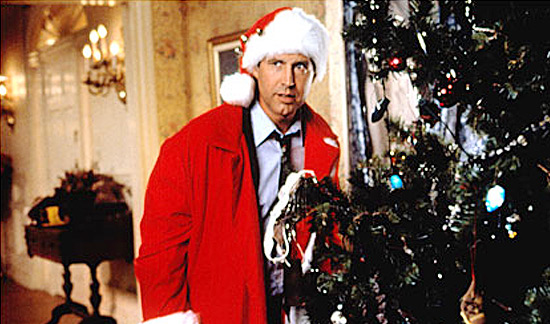 1. To make a statement, group ornament balls together.
To make a bigger impact with your ornaments, group three balls together all on one hook. Placed deep inside your tree, they'll provide additional light by reflecting the light outward. Set on outer branches, they'll give your tree a much stronger look. Remember: if you only have round ornaments on your tree, there's nothing special to catch the eye. Having multiple shapes and lines is far more interesting.
2. Use ornaments as place settings or holiday gifts.
For place-settings or gifts for a holiday party, place a single ornament upside-down atop a plastic or glass champagne flute or decorative holiday glass, and finish with a matching bow.
Your guests will walk away with a pretty remembrance of your holiday party, and they can add the ornament to their own tree.
3. Glam up your tree skirt with garland.
If you'd like to dress up your existing tree skirt instead of buying a new one, take a piece or two of bright tinsel garland, and place it in the shape of a circle just inside the circumference of the tree skirt.
4. Put your Christmas tree on a table.
Give the illusion of height, and get more "bang for your buck" by putting your tree on a table. This is especially effective if your tree is in a window. Place the table and cover it with your tree skirt.
5. Set your tree in a corner.
The biggest money-saving tip if you don't have many ornaments and want your tree to look full is to place your tree in a a corner. It sounds simple, and it is!  You won't need to light OR decorate the back of the tree, and that means you'll only have to cover about 2/3 of it with decorations.
Griswold image via