Tis the season for Irish whiskey desserts, so we rounded up the most drool-worthy options.
Even if St. Pat's wasn't just around the corner, the idea of Irish whiskey combined with sweets sounds like everything right with the world, which is exactly why we rounded up the five most mouth-watering Irish whiskey desserts we could find on the whole internet.
READ MORE: 10 Health Benefits of Whiskey
These chocolates are Irish in their innards, and we love that
Instead of just drinking whiskey on St. Patrick's Day, Burdick Chocolate has created Limited Edition Irish Whiskey Chocolates. These chocolate bonbons are made with an Irish touch and only the best whiskeys. This tops our list of Irish whiskey desserts because you can pop just one if you're being "good" about your whiskey and calories intake.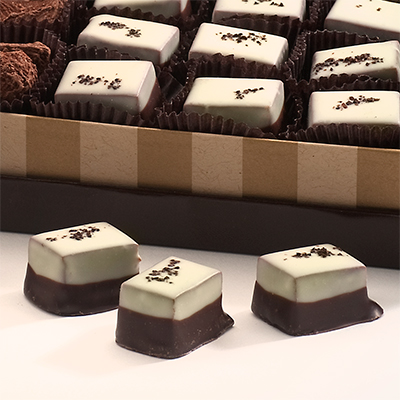 Knappogue Castle Single Malt Irish Whiskey and Clontarf Irish Whiskey
Obviously this ultra creamy addition to the list of best Irish whiskey desserts can be found in Brooklyn, because where else on Earth (Ireland aside) would you find such a dramatically hipster rendition of whiskey and sugar? Nowhere, and that's science. You'll be pleased to know this one is worth a car, boat, plane, train, or vintage Schwinn bike over to OddFellows Ice Cream Co. in Williamsburg, though. Available through the month of March for $13; Sam Mason and his team at the ice cream shop have whipped up a trio of boozy scoops with three unique Irish whiskey expressions.
Flavors include:
-Dead Rabbit Irish Coffee ice cream made with Clontarf Irish Whiskey
-Knappogue Castle 14 Year Single Malt Irish Whiskey ice cream with sherry syrup
-Burnt Marshmallow ice cream with a Knappogue Castle 12 Year wash
Then there are these DIY Irish whiskey brownies
Go to town, because everyone on Instagram already seems to be going wild over these recipes for whiskey-infused brownies. Can we can an amen? Pro tip: forget what the Betty recipe suggests, add LOTS of the real stuff directly to your frosting and drizzle the holy hell out of your brownies.
Irish lattes are having a big moment, too
If you're not a cake and ice cream kind of human (shocking, and we can't make sense of this), there's good news — Irish lattes are having a major moment, and they're a step up from the regular Irish coffees our mothers used to drink. There's something about a liquid addition to the best Irish whiskey desserts that's sort of satisfying, right?
Also, Irish whiskey cakes seem to be picking up steam
Can we just look at this cake trend currently happening in Russia? Russia, the land of harsh rule and vodka, is now trying to take a page out of the Irish book and get down with whiskey. Who can blame 'em? Not us, that's for sure, which is why we're proud to announce the trend of Irish whiskey cakes taking over the Russian birthday party scene. By the way, the legal drinking age is lower over there, which is probably why a lot of these cakes look, dare we say, youthful.
Love this article? For more beauty, style, travel, and trending topics check out The Luxury Spot on Facebook. Like us and we'll love you back!