Seven super easy DIY hair oil treatments to replenish and restore your hair's greatness.
The more we heat style, dye, and chemically treat our hair, the more likely we are to damage those poor strands. DIY hair oil treatments are so helpful in making sure you can keep your hair in good condition. Not only are oils great for hydrating hair, but they can help prevent problems like breakage, split ends, and dull hair. You can do hair oil treatments once a week or so for healthy, hydrated hair!
Before you fall down the rabbit hole of hair oil treatments, make sure you have a clarifying shampoo. Washing out hair oil treatments can sometimes be a pain. Using a clarifying shampoo helps to remove those oils and any hair products left on your hair. Don't worry if one wash doesn't do it, just shampoo twice to get all that oil out of your hair.
Hair Oil Treatments – Household Ingredients To Use:
Coconut Oil – This magic oil is a Pinterest favorite for good reason. Coconut oil has a very small molecular structure which makes it possible to fully penetrate hair. Which is a very scientific way of saying that this oil can hydrate your hair inside and out. This makes it a hair super hero! It's great for everything from strengthening, to hydrating, to making hair soft and manageable.
Olive Oil – For a hydrator and shine-giver, look to olive oil. This is a particularly great oil, which is why you may not want to eat it in high quantities. But, your hair is going to love it. Although it can't penetrate the hair quite like coconut oil, olive oil helps in making hair soft and can hydrate the outer layer of hair.
Castor Oil – Although the scientific community still can't quite come to an agreement on topical application of castor oil for hair growth, the anecdotal evidence is almost overwhelming. People are very passionate that castor oil helps to re-grow hair, science be damned. Regardless of if castor oil can actually re-grow hair, it's high fatty acid composition will hydrate your hair and scalp. Blondes be warned, castor oil has been shown to darken hair color. Which, incidentally, may make light colored baby hairs look like hair growth.
Egg Yolks – These little sunshine-y blobs are filled to the brim with proteins, vitamins and minerals. The protein, obviously is great for hair protein masks, and the vitamins and minerals can help foster a healthy scalp.
Avocado/Avocado Oil – Avocados are particularly fatty fruits. Using the whole avocado (mashed) gives you better access to the high quantities of vitamins A, C, and E. Used as avocado oil you'll get all they hydrating and shiny hair benefits. Quick tip for using mashed avocado: keep the mash large enough that it will get stuck on a wide tooth comb. It makes pre-washing removal much easier.
Honey – For a surprising wonder product, look to honey. Honey has many qualities that are great for both hair and scalp treatments. Not only is it hydrating, but it has antimicrobial, antiseptic, and anti-inflammatory properties. Honey is occlusive, which basically means it traps in moisture. It works almost like a band aid, holding moisture inside your hair.
Mayonnaise – For a quick way to add eggs and oil to your hair, reach for mayo! Admittedly, the best mayonnaise for hair oil treatments is made fresh. So, what about store bought mayo? It will still help in adding shine and protein to the hair, just not quite as well.
Jojoba Oil – This oil isn't really an oil! It's actually a wax ester, but is great for dry scalps because it is very close to human sebum (aka oil). It's also full of vitamin E, and minerals like zinc, and copper. This is a slightly pricier oil so it's good to mix in with other hydrators.
Grapeseed Oil – This oil is best used as a mixer or base oil. It helps to thin out thick oils like castor oils, and dilute more expensive oils like Jojoba. It is lightly hydrating, but overall helps to make your DIY hair oil treatments less expensive.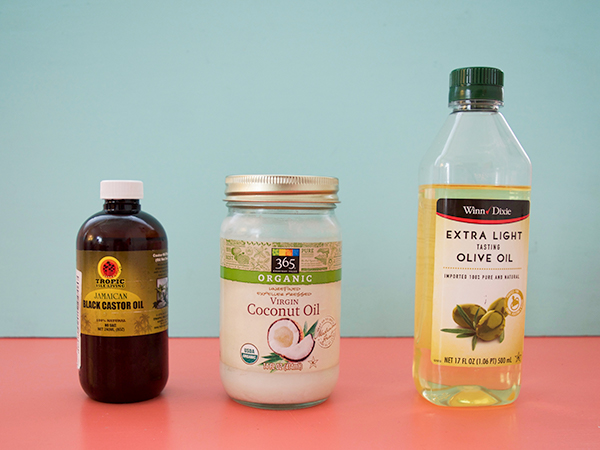 Hair Growth Treatment
If you are experiencing a light amount of hair fall, try hair oil treatments to help re-grow healthy hair. A solid mix would be equal parts of castor oil, coconut oil, and olive oil. Apply to your scalp and massage it all in. The massage not only feels really nice, but it also helps to stimulate circulation in your scalp. Let this mixture sit in your hair for a few hours (or overnight) then wash it all out. Repeat once to twice a week, but remember it takes three to four months to see improvement in hair growth. If you don't know the cause of your hair loss (like childbirth) or you are experiencing a sudden extreme amount of hair fall, please have a chat with a doctor.

Shiny Hair Treatment
For the shiniest hair of your life, you'll want to do an avocado hair mask. First, mash up one avocado that you've left a day too long and is over-ripe. Then mix together equal parts olive oil and melted coconut oil. Mix it all together, adding in the oil until your avocado mash is liquid enough to apply to your hair.
For this mask apply from the ends of your hair upwards, ending an inch or two from your roots. Hang out for a good twenty minutes before combing out the mask with a wide tooth comb. Once you've removed the majority of the avocado, then you can shower. Your shower drain can thank you later.

Brittle Hair Treatment
For crunchy hair that is getting a bit straw like, use a mixture of avocado, coconut oil, and honey. If your hair is brittle all the way up to your roots, swap mashed avocado for avocado oil instead. In either case you'll want a 50/50 avocado mash or oil mixed with melted coconut oil. Squeeze in two or three tablespoons of honey before applying to wet hair. You can let an all oily mixture sink in for a few hours, if you are using mashed avocado, cap it around twenty minutes before washing out.

Split Ends Treatment
For eking by for an extra couple of weeks before a trim, try this split end sealing treatment. You'll want a base of olive oil, mixed with one whisked egg yolk, and two tablespoons of honey. Apply this mask just to the ends of your hair and wash out after half an hour.

Hair Protein Treatment
If your hair is in need of protein and moisture try a mayonnaise mask! You can apply mayo all over your hair and wash out after twenty minutes. If a full mayonnaise mask squicks you out, mix just a few tablespoons in with an egg yolk, olive oil and honey mask.

Dry Scalp Treatment
For dry scalps (not dandruff) you want to apply oils right to the problem. Mix together equal parts olive oil and melted coconut oil with a tablespoon of Jojoba oil. Massage into your scalp and leave on for a few hours before washing out. This is one of the easiest DIY hair oil treatments and can be done frequently.

Hot Hair Oil Treatments
Hot hair oil treatments are a bit of a misnomer. You don't want the oil to be hot – more like warm to the touch. These treatments are great for adding shine, and making your hair much softer. Mix together equal parts grapeseed oil, olive oil, coconut oil, and castor oil. Apply the warm oil to all of your hair and scalp. You can wrap your hair in plastic wrap and a dryer warmed towel until the oil cools down to room temperature.
Love this article? For more beauty, style, travel, and trending topics check out The Luxury Spot on Facebook. Like us and we'll love you back!