Dear Aging: I hate you. We are no longer friends and I'm sorry but I've been meaning to tell you this since that night I threw up in the fishbowl on my 21st birthday. Through bribes of delicious yearly cakes and practical gift certificates you've really pulled one over on me. I'm just letting you know, I won't go quietly.
Fortunately, for those of us who havent yet been tossed into the hell-pit of deep smile and frown lines but want to begin a preventive anti-aging plan, there are tons of new, noncommittal, anti-poisonous-injection options. Don't get me wrong, I'm sure in 10 years I will be investigating each and every one of those deliciously invasive procedures, but for now I'm much more into products like Kimiko's Lifting Eye Shadow BentoBox. It's skincare built directly into cosmetics which completely simplifies my life and somehow disillusions me into thinking I'm not really using skincare products, and therefore that I don't really need skincare products. If you aren't a cream and lotion type of girl, this makeup takes out that entire process making cosemetic application a two birds, one stone type of deal. The powder actually works to lessen the appearance of those ridiculous little lines forming around the creases of your eyelids. I use the BentoBox in "Zen Garden," a palette of Tatami: light sand; Green Tea: leafy green sheen; Bonsai: matte hunter green; and Miso: a warm, rich beige.
Kimiko's also makes the best limp plumper around, in my opinion. They use real berry and pomegranate extract for the color, and it leaves your lips feeling cool, not as if they're being stung by 1000 magical microscopic bees with super stinging power, like other plumpers.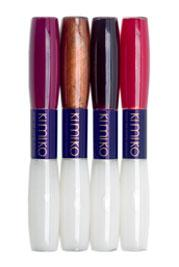 For products this good, you'd think you'd have to walk down a sketchy alley and engage in a hand-off worthy of a drug deal. But, luckily, they're available at Takashimaya if you're in New York and Bliss Spas nationwide. So, Aging, it's on.
Disclosure: All products were provided for review. No monetary compensation was received for this review. All opinions belong to the author.