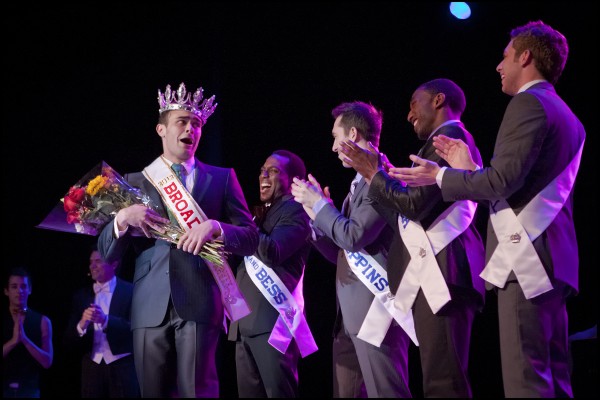 Performing arts might be my favorite art form, and there was plenty of performing at this year's Mr. Broadway Beauty Pageant, a male beauty pageant in New York where contestants frolic about on stage to win the affection (and the votes) of the judges and crowd. And who better to sing, dance, and run around half naked than hot cast members from the hottest Broadway shows?! I had the pleasure of attending this year's Mr. Broadway Beauty Pageant, which not only served as a night of gaytastic frivolity and non-stop laughs, but also raised money for the Ali Forney Center, a shelter for homeless LGBT youth.
The night was broken down into three mini competitions: the interview, the swim suit competition (my fave!), and of course, the talent – and boy was there talent! Acts ranged from a drag performance of Jennifer Hudson's "I am Changing," to a piano mash-up of pop's top 40 hits, and even a stand up comedy skit on how to wear pumps (the winner)!
Equally as entertaining were the judges: Village Voice columnist Michael Musto, comedian/Broadway star Jackie Hoffman and Tony winner Tonya Pinkin! Hosting the event was legendary Tovah Feldshuh, who provided non-stop witty banter and clever commentary.
Just in case you missed it, here are some highlights from this fantastic annual spectacle:
Contestants from left to right: Corey Mach (Mr. Godspell), Jesse Swimm (Mr. Mary Poppins), Anthony Wayne (Mr. Priscilla), Andrew Chappelle (Mr. Mamma Mia), Wilkie Ferguson III (Mr. Porgy)
The Swim Suit Competition
The Judges…

Mr. Broadway 2012 Mr. Mamma Mia, Andrew Chappelle (left), gleaming with pride
Photos courtesy of the
Ali Forney Center