It happens to all of us parents. We're browsing in a kids' clothing store, or online, and we come upon the most gorgeous dress ever. It's stunning. It's the perfect colour. And it comes in sizes 0-3 months through 6X.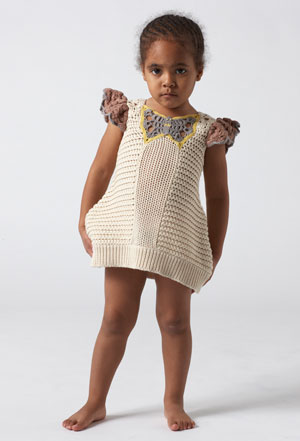 Sometimes this is a deliberate choice by the designer, and smaller-sized adults can get in on the fun, too. I'm looking at you, Stella McCartney for GapKids. I will admit to owning a couple of Stella x Gap shirts in a kids' XL. And sometimes things come in both adult and kid sizes, which is why my daughter and I have matching Uggs  and matching TOMs. (Protip: if your feet are size 9 or below, you can buy the largest sizes of kids' Toms for cheaper than adult ones are!)
But often, there is no adult size. Often, we are left to be jealous of the fact that our kids are way more stylish than us.
Bonpoint
When my daughter was born a few years ago, a family friend had just jetted in from Paris, bringing gifts for her from the infamous Bonpoint, which is apparently Brangelina's favourite kids' boutique. At the time I was in a sleep-deprived haze, because she never slept, and I swear that cherry-laden box helped snap me out of it. It contained a soft brown cashmere sweater, brown-and-mint plaid dress, turtleneck onesie and cable-knit tights. This was the first time I was ever jealous of my daughter.
The thing about Bonpoint is that it's a collection made up entirely of things that I would totally wear every day. Just look at this bow sweater and tartan skirt with a kid-sized briefcase! This mustard sweater and grey skirt combo! This ballerina-shoe sweater for babies! And if you have a boy, this is the dapperest thing I have ever seen. I kind of wish it was in my husband's size.
Chloe Kids
I am a huge fan of Chloe. The Elsie shoulder bag in dove grey is my current handbag crave. But I am especially obsessed with the Chloe Kids' line. It's carried by Little Ones, my favourite kids' boutique here in Toronto, and I often have to fight the urge to ask the store to order things in my size.
Take, for instance, this sequin dress. Who wouldn't wear that to a winter gala? It is the PERFECT dress. And this red cashmere cardigan would be amazing with pretty much everything I own. But, alas, they are not for me.
Ah, well. I suppose I'll live vicariously through my daughter for the moment… at least in fashion.