I'm sure you've heard of Ayurveda, but you might not realize that this ancient holistic medicinal practice actually began thousands of years ago in India and is the longest continuously practiced medical science in the world.  Ayurveda embraces the use of healing herbs and plant derivatives to maintain health.
When I found Anjolie Ayurveda soaps, I was pretty excited.  I knew they'd be high quality, full of lush herbs, and made in the most natural way.  I was right.  As it turns out, these soaps come directly from the foothills of the Himilayan Mountains, where bountiful gardens of roses, herbs, berries, and fruit trees flourish.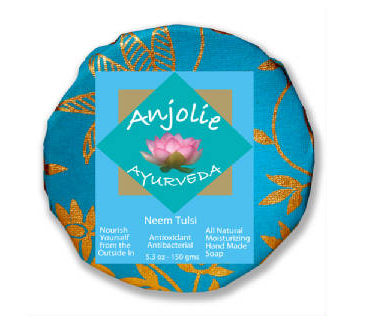 Although there is a variety of scents with specific purposes, my favorite is the Neem Tulsi (holy basil).  It's sweet, fragrant, and somehow the smell reminds me of home.  Neem's healing properties are said to help dry skin, oily skin, and cleanse gently.
These soaps are wrapped in beautiful gift wrap and look like they cost at least $15 a piece… but somehow they're much less.  For $9, you get an artisan, natural soap that anyone would be proud to give as a gift or leave in a guest bathroom.
Disclosure: All products were provided for review. No monetary compensation was received for this review. All opinions belong to the author.