Bryce mentioned last week that we had a wild photo shoot in Dress Barn. Yep, you read it right… Dress Barn. Stop giggling, the not-so-bail-of-hay retail chain actually has some cute retro frocks! When looking through their racks in preparation for said photos hoot one blustery Wednesday, Bryce and I  looked at each other with that 'are you thinking what I'm thinking' stare… each dress was more Mad Men than the last.
So, the morning of our shoot, Bryce and I, along with a dear reader & friend Taryn, hustled ourselves up to Paul Labrecque's famed Upper East Side NYC location almost too early in the morning for a makeover of sorts. Want the look? Sure ya do! We walked out looking like retro hotties with the scoop on how to get the look from our hot stylists & makeup artist.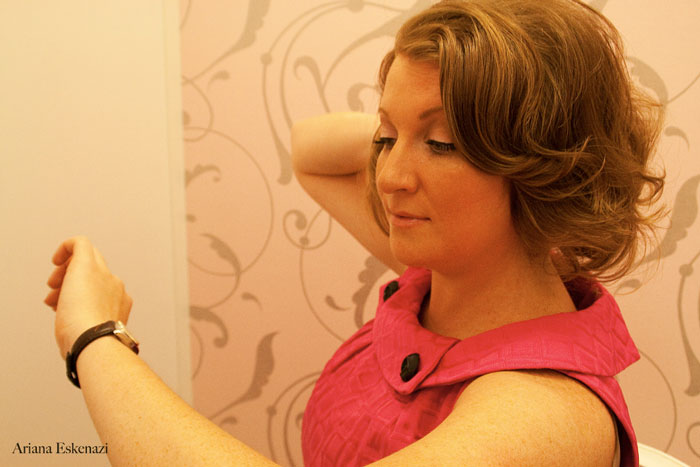 Ashley, styled by Caroline:
Caroline kept Betty Draper in mind while styling my locks.  I'll let her 'splain: "It was inspired by the structured look of the early 60s, but modernized by deconstructing it with a whole lot of teasing and brushed out curls. If you have long hair with lots of layers you can achieve this look by first blowdrying your hair using Paul Labrecque Color Foam and a large ceramic round brush for volume, and then setting your hair in big curls with a 1″ barrel curling iron. Spray all over with Paul Labrecque Straight Finish and let cool before brushing out with a soft, flat brush. Gently backcomb all over, roots to ends, and then at the nape of the neck divide the hair into 1″ wide sections, and roll each section underneath itself into standing pincurls that create bulk at the bottom of the hairdo, the way a bob would – criss-cross bobby pins against the scalp to hold each pincurl in place. The shorter layers that are already in your hair can be pulled out so that they fall free and loosely hide all the hair that's tucked underneath to create a bob effect without having to actually hack all your hair off! Once you have all the messy curls in place spray all over again with Paul Labrecque Straight Finish for amazing hold that doesn't look or feel crunchy, but will hold up through trying on dress after dress."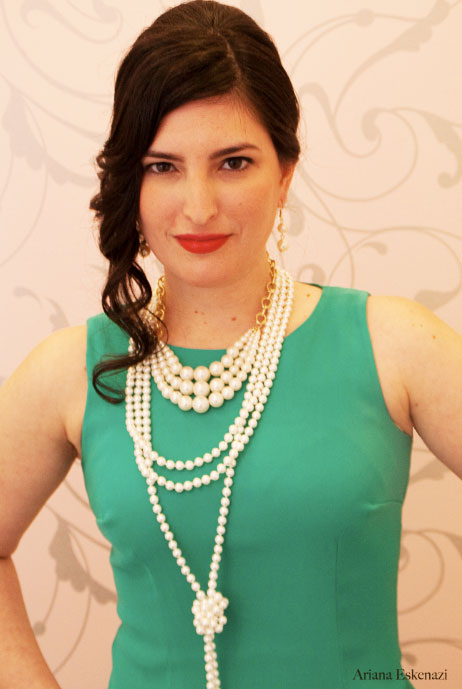 Taryn, styled by Simone:
"On Taryn, used Paul Labrecque Straight Finish for hold and curly finish for shine. My vision for the look is a soft, sexy 60's inspired style that's very wearable for today's woman."  Taryn's look went from retro to corporate in a snap, too! Her hair is some of the longest & thickest I've ever seen in person, so our stylists helped gather the beautifully cascading curls in to a tasteful bun easily from her long locks wrapped up in a beautiful waterfall almost  resembling the fleur de lis. The loose curls in the front were pinned in, and she was back to her corporate office for a board meeting without anyone batting an eyelash!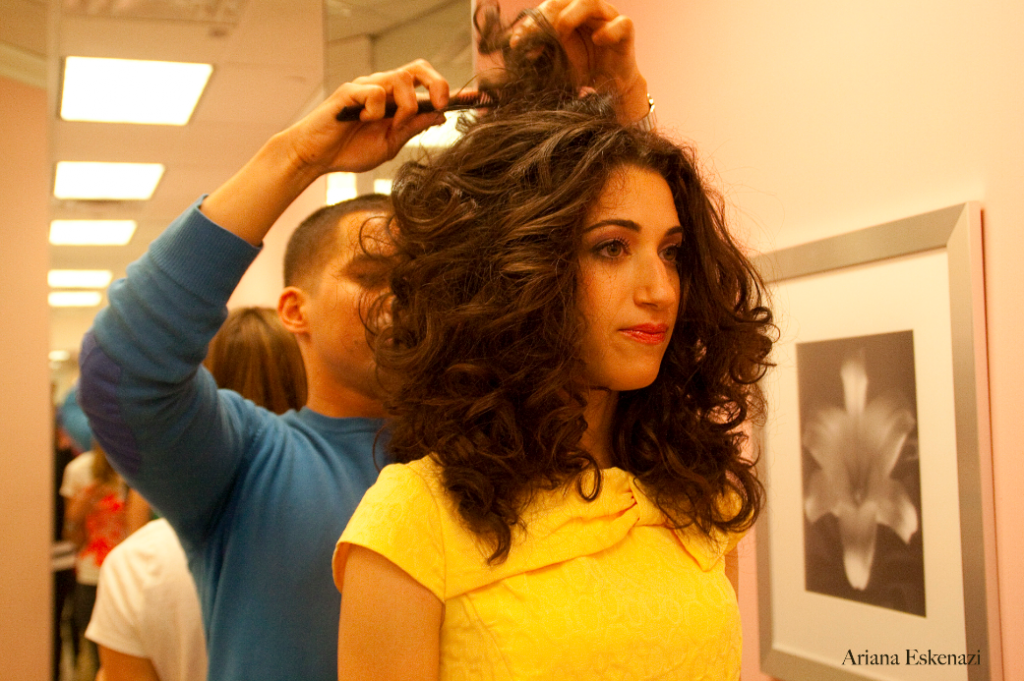 Bryce, styled by Pedro Rios:
Pedro went wild with Bryce's hair. If I were her, I'd have Pedro living in my house doing this to me every single day, with mid day fluff sessions. "In the 1950's women wanted their hair curly or wavy. Bryce's look was a mix between innocent Curly Sue and the Diva Diana Ross. We first put equal amounts of Paul Labrecque Curly Style and Repair Style in the hair from roots to ends. With the use of a hair diffuser we diffused the hair. In order to make more defined curls we used a one inch curling iron and strategically picked sections to curl.  We then teased the crown of the head and finished with Paul Labrecque Curly Finish to add some shine and that last bit of glamour."  It was insanely editorial, but a small bit of serum & a brush later, she was street ready for a quick bowl of soup before we went back to the office.
Makeup for all, by Shereen Nicole:
Shereen explained that with the Mad Men theme, she would normally go for a defined red lop & clean matte skin, but the bright colors we were slated to wear, a spring time pallete was in order. My strawberry blonde hair steered Shereen in a pink & tan combination for the eyes, accentuating the cheeks most with lots of bronzer & a pink highlighter on the temples.   Taryn's dark hair & light skin was perfect for the red lip "but with a little gloss to alter the color to a reddish coral, with a contrasting clean semi- satin skin using cle' de peau powder on top of the skin and a slight touch of bronzer." On Bryce, it was all about the eyes. "Peach, berry and green eye shadows were complimented with bronzer on her cheeks and a coral cheek with a peach lip accented with a berry gloss. Berry will be a big color this season!"
[
Stay tuned for Bryce's recap of the fashion, styling & Dress Barn insider tips
]
Special thanks to our friends at Paul Labrecque!!  Click here to book them in NYC (highly recommend it. seriously. they rule.) and shop online for the products mentioned