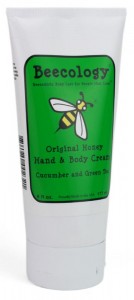 I hate it when lotions and moisturizers disappoint. They either leave my skin looking and feeling dry despite their 24-hour promise to do just the opposite, or they may do their moisturizing job, but do little else for the well-being of my skin. In my continued search for the perfect body cream, I have come across these shining beacons of hope.
First off, Beecology is the answer for anyone who is trying to avoid skincare packed with chemicals and preservatives. Their formaldehyde free, paraben free, and PEG free Honey Hand and Body Cream does so much more than fulfill its moisturizing duties. It is made in small batches by a family of beekeepers and contains three bee-derived ingredients: honey, beeswax, and propolis to help lock in moisture. These are then blended with other moisturizers from around the globe such as shea butter and olive oil. I absolutely love Beecology's non-greasy feel and its Cucumber and Green Tea scent!
Ever feel like your skin is so dry, it's fragile? Well, that happens to me during New York City winters with their cold, merciless winds. Luckily, I have found just what it takes to combat that feeling: Aveeno Positively Ageless Skin Strengthening body cream. It even states on the bottle, for dry, fragile skin. Perfect! Those aforementioned merciless winds, coupled with other harmful external factors that we are exposed to everyday actually cause skin to become thinner and lose its protective moisture barrier – so I wasn't just imagining the whole skin feeling fragile thing. This body cream contains natural shiitake complex to help rebuild this lost moisture barrier, and with continued use, strengthens skin and gives it a more youthful look.
My final skincare savior comes from the vault of amazing innovations by Elizabeth Grant: it's her Vitamin C Hydra-Moist body cream. It is just bursting with encapsulated vitamin C that starts working as soon as its applied to the skin. This luxurious cream firms and brightens skin, while making any wrinkled skin you may have appear smooth. I love the vitamin packed characteristic of this product; it makes me feel healthy and productive whenever I use it.