Bored this weekend? Get into the holiday spirit! Old Navy is hosting a holiday skating Winter Wonderland event at the Pond in Bryant Park starting at 8AM today and tomorrow (December12-13). Now call me crazy but I just LOVE that skating rink, way less crowded than Rockefeller Center!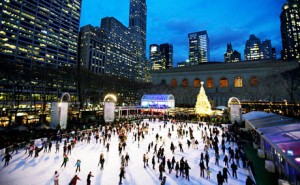 Anyway, Old Navy will pay for the first 3,000 skaters' admission, skate rental and even throw in some complementary hot cocoa! There will also be performances by the RockNRoll Chorus, a teenage acapella vocal group, and the U.S. National Championship Synchronized Skating Team. I honestly didn't even know that synchronized skatin existed but it sounds pretty damn cool. Old Navy will also set up a pop up shop in Bryant Park selling their performance fleeces for just $5. All of the proceeds go to New York Cares, New York City's largest vounteer organization.
So go have some fun, get some shopping done and help a good cause!