It's summer.  I can't stand being inside… especially knowing that my time in this blissful season is winding down.  Even on the weekends I've been doing my best to wake up early to get outside and enjoy the warm, breezy air and soak in a few rays (through my SPF 30).  There's only one issue.
I'm a magnet for bugs.  There's something about my "sweet" blood that draws mosquitos in like crazy, and I'm not the kinda girl to exercise enough self-control to stop from scratching.  The result is my long legs being covered in red welts, scratch marks, and occasionally scabs.  UGH.  And until now, I've been afraid of using bug spray because it's full of harsh chemicals that are generally dangerous for me, and possibly more dangeous for my 7 month old baby!  I found the magic solution though…
Eco.Kid bug spray!  This spray uses Andiroba tree oils to deter bugs while nourishing the skin.  This fabu little spray has no synthetics, sulphates, silicone, parabens, or artificial preservatives.  Amen to that!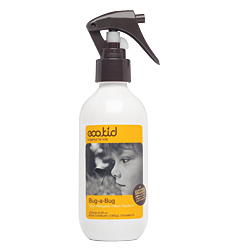 Look for this fantastic product in Target across the US!