Ahhh another year, another season of Dancing With the Stars. While most of us groan with the term "star" on the show, it's no doubt that it's pretty much always entertaining to watch "celebs" try to hold onto that last shred of their 15 minutes (are you there Drew Lachey?).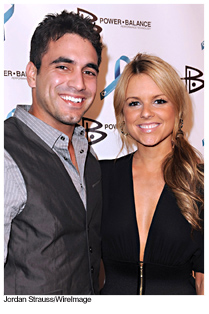 According to In Touch Weekly, The Bachelorettes Ali Fedotowsky and fiancé Roberto Martinez are the newest cast mates rumored to be on the show. Get your TV time in while you can girl! Big Life star Kirstie Alley, who In Touch revealed will be with my insane crush and former contestant Erin Andrew's boyfriend Maksim Chmerkovskiy. This is also her 934rd attempt in losing weight while also being on TV. Sorry Jenny Craig. Also newly rumored Bristol Palin because, well, I don't know why. See kids? Putting out in High School WILL get you noticed! Audrina Patridge is my guess to be the first to go, mainly because I don't like her and she probably has the grace and stamina of a walrus. I really hope that David Hasselhoff is going to be a contestant because his drunken debauchery reminds me of highlights of my dancing days where I was also drunk and in public. No revelations on a "clear winner" from the beginning yet like last years Nicole Scherzinwhatever, but I'll keep my ears open. The official cast will be revealed on August 30th in case you really were interested.
And just for old times sake, here's that horribly awesome video of David Hasselhoff eating that cheeseburger drunk on the floor. Not for nothing, but sometimes it really is the best thing. Prob not in front of your kids though.