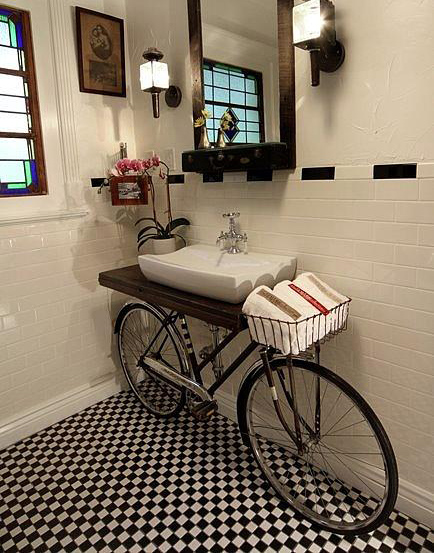 I can't tell you how many times I have been at a flea market or garage sale and seen a beautiful antique bike. I think to myself "God I want that bike!" which is immediately followed by "But where would I store it?" "Would I ever actually ride it?" and "What if it got stolen?" and I end up going to get some cheese fries and lamenting over the immense coolness that I just passed up.
Bikes aren't just for riding anymore. In this day and age you can pretty much work anything at all into the décor of your home. Benjamin Bullins, the designer of this sink-stand used an antique bike, complete with basket as a complement to their bathroom sink. It gives the room an edge of innovation, an air of history, and a uniqueness that only comes when you create a true statement piece out of something unconventional.
So the next time you talk yourself out of buying that antique bike, think about all the places you could use it. Mount it on a wall! Build it into a bar table! Hang it on the ceiling above the couch! The most important part of designing an interior is to choose things we love, and make them work.
[
via
]