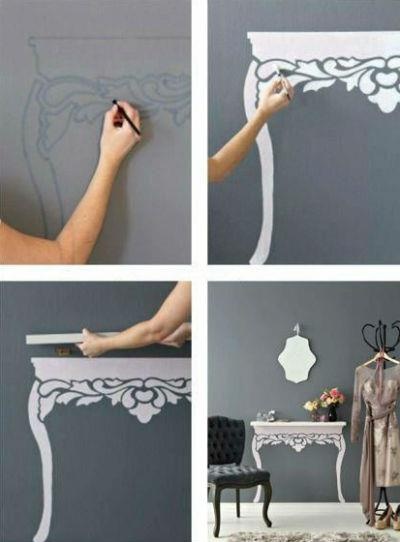 DIY painted console table formula below:
I truly believe that no entryway is complete without a console table. If you don't have a console table, where will you throw your keys when you come home at night? Where will you lean your umbrella when dash back to your place on your lunch-break? Where will you set your purse when you take one last look at yourself before work and decide that your mascara makes you look like a streetwalker?
A console table is a necessity for any entryway, however if you are spacially challenged like us New Yorkers, you might have to get creative with the execution.
Grab an artistic friend and ask them to draw out the shapes for you (artists won't mind-they are all too self-absorbed to notice things like free labor). Then paint in the shapes yourself, hang a perfectly placed shelf, and voila! You have a great, functional addition to your decor and an awesome entryway for any tiny space
[
via
]