It's Friday and I have a lot on my agenda this weekend with friends visiting, visiting bartender besties ( join us at  Town Tavern tonight, and you never know what could happen with Grace behind the bar), cleaning my bathroom, keeping Steph entertained  with shiny things and daytime alcohol, and countless other weekend duties. And needless to say, all of these weekend fixtures involve a lil' pregaming actionnnn.
What is my pre-game drank of choice?  MAGNERS of course.  Bryce refers to this stuff as Alcoholic Jolly Rancher ( in a good way- B-bonez has a sweet tooth) and I just refer to it as 'my drank, ova ice'.
I spent a few months in Ireland 'studying' abroad in college. ( by studying I mean getting my alchol tolerance to exponential heights… my BAC was as high as my GPA, and I got allll A's) This is when my mouth and Ireland's top selling cider began their love affair.  It was sweet, less filling than beer,  delish and refreshing over ice.  Ugh, it was heaven in a 19 oz bottle. And at 4.5% alcohol content, it ain't too shabby at making your dance moves 4.5 % better than if you were sober.  It has natural ingredients, and was just flipping delish. After 3 months, a party schedule that included class-time at the pub,I came back from Ireland with new friends, zero dignity and an addiction to Magners. I thought I would twitch for a lifetime until I got back to the homeland again, but ended up living still to tell a tale of my lifetime of Magners love because it's sold in the US!  Most bars have them, grocery stores stock them, Bar taps pour them.  It's the ONLY genuine Irish cider sold in the US- and I'm ok with that.  As far as I'm concerned, it's the only cider that will hit my lips.
In any case, after a long day at work ( or during work …Casually Drunk Fridays anyone?…see Jason below…) I am ready to down me some Magners to wind down, and in turn, wind myself back up for a wild Friday night at Town Tavern with my buds.   I usually indulge in some healthy carbs to give myself a little base for all the drunkeness with some popchips.  All natural, light, tasty and cheap!  They come in all different flavors, like barbeque, parmesean, sea salt and their newest additions… cheddar and sour cream & onion.
Everyone loves popchips, how can you not?? The flavor is popped right in, so no worries about gross orange fingertips. Never Fried, Never Baked…popped to perfection, and a perfect pregaming delight.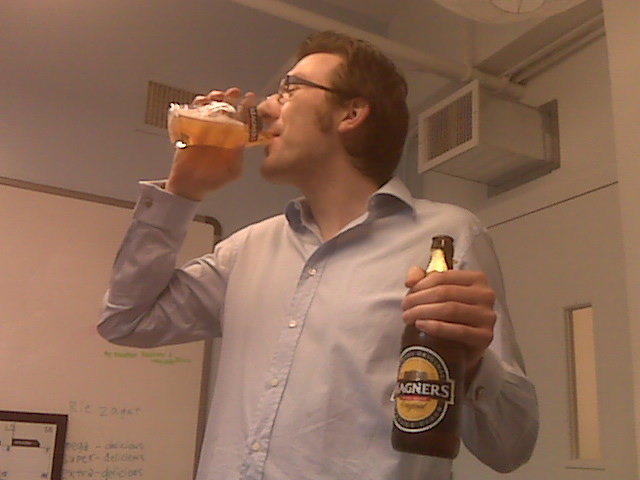 Although drankin me' Magners is funtime in a bottle, we still need some pre-gaming entertainment to get us going, especially is friends are visiting, or we have a party where guests may not be too familiar with other guests.  That's when Steph whips out Gravitas and we all sit down for a 'getting to knowwww you' session.
Gravitas has many meanings, but this was the best one we could come up with…. " strip-inhabitions and spill your guts to the stranger across from you, in a box."  This game is like strip poker, truth or dare, 7 minutes in heaven, trivial pursuit and 'would you rather' all mixed into one, with a little rugby action if  the players disagree with each others answers. Read the complete list of rules here. The game is supes fun, and  small enough to bring in the car for road trips, to a dinner party or to the beach. The box is pretty enough that we just keep it on the kitchen table for random occasions of fun.  What kinds of questions are on these cards, you ask? Questions that have no right answer, and that will make you think and think and think. Our fav was: "Who is riding in your sidecar?"
Needless to say, this box of fun is a pre-gamers dream come true. The answers get more and more ridic as the Magners starts aflowin', and we get more and more excited about spilling our deepest darkest secrets. Just beware of TMI.
If only I had a sidecar…. I would probably just fill it with Magners  head to TT and call it a Friday night of fun.