This scorching, sweaty, hot, hot heat during Summer OH TEN gave me a lot of time to test out the moisturizers that would keep me hydrated, day & night, without feeling like I was mellllting, meeeelllllltinngggggg. My naturally oily-complexion gets slicker than slick in these humid times, and oil-free is my only option to stay blemish free and sane.
photo via (lg photography)
My findings? Ice Cream is better with sprinkles. Dancing is better with liquor. And a different OIL-FREE moisturizer for a specific weather forecast is SO necessary.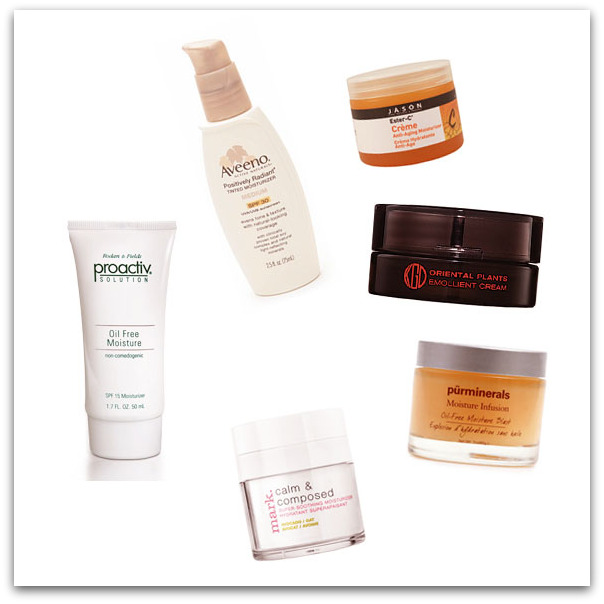 Vitamin Powered Anti-Aging: Lately, as summer is coming to a close, and I see these wee sun-damage spots appearing, JASON Natural Ester C Creme has been my go-to night creme 1-2 days/week.  Infused with antioxidants, naturally derived Vitamins C & E, and Alpha Liopic Acid, I'm enjoying the benefits I've seen from its firming in the eye area, while the thicker formula hydrates & diminishes the appearance of wrinkles. PLUS: it smells heavenly!
JASON Ester C Creme [$16.95 Jason-Natural.com]
Plant Powered Splurge: Before big events this summer, I've been reaching for Koh Gen Do's luxe cream for dry days & night. Containing carrot Vitamin C & 36 nourishing botanicals, it leaves a matte finish that primes for makeup really, really well. PLUS: the oil-free base keeps makeup in place.
Koh Gen Do Oriental Plants Emollient [$109 Barney's locations & Barneys.com]
No-Muss Moisture: Especially after a burn (woops!), Pur Minerals moisture infusion's gel-like consistency soothed the crap out of my scorched cheeks while moisturizing them back to health. Aloe, white lily, Vitamin E for healing and green-tea to sooth irritation all combined for me into a little non-greasy rush of moisture that lasted for hours. Great for those rainy days that can turn your skin ruddy. PLUS: naturally color & dye free means pure, clean fun.
Pur Minerals Moisture Infusion[$35 PurMinerals.com]
Calm, Cool & Collected: Relieving any sunny afterglow, stress breakouts,  or reactions to other creams (true story, I had a bad run-in with an SPF Sunscreen. Hives were plentiful) were all helped tremendously with mark's Calm & Composed moisturizer. Avocado, red algae & oat all helped to give my skin some breathing room after too many days in full makeup in the sun. PLUS: the push dispenser keeps things tidy.
mark Calm & Composed Super-Soothing Moisturizer [$16 meetmark.com]
SPF Power: Proactiv may be known for their acne infomercials that keep you entertained at 3AM learning about Katy Perry's acne woes, but their products pack a serious punch when it comes to SPF.  Their oil-free moisturizer doesn't have any acne meds in it, as to not interfere with the infamous 3-step system, but the SPF is the least greasy out of the bunch, with no pore clogging gunk. PERFECT for those super humid days. PLUS: it's fragrance free, so your perfume has zero competition.
Proactiv Oil-Free Moisture with SPF 15 [Part of the  Proactiv Plus Deluxe System $29.95 Proactiv.com ]
A Hint of Tint: Tinted moisturizer was something that I became to embrace more and more this summer, as my willingness to apply makeup on my skin, in fear it would sweat off, became slight. My mom always swore by tinted moisturizer, and her skin looks great for her age (yea, I should have taken the hint year ago. I know this now). Aveeno's tinted moisturizer helped to even out blemishes, weird skin tones & wore well with my flushed summer skin. I was happy to swipe it on before running out for errands for a little color boost without worrying about bronzer or blush.  PLUS: SPF 30! Need I say more?
Aveeno Positively Radiant Tinted Moisturizer with SPF $30 [$14.99 drugstores nationwide]
Disclosure: products provided for review, all opinions are those of the authors