The aroused Spiderman sculpture erected in South Korea last year is set to come down.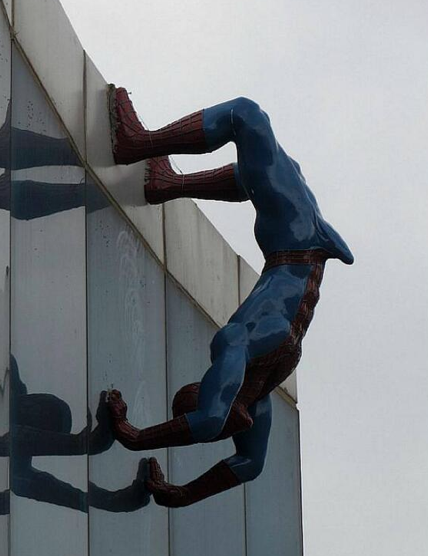 If you have been paying attention to either The Internet, or South Korea lately, you know that photos of a sculpture in South Korea depicting Spiderman with a raging hard-on have been making the rounds.
The sculpture hangs off the side of a building in the Lotte Shopping Center in Busan, South Korea, and is the work of artist Eunsuk Yoo. His goal was to naturalize the superhero in a humorous way, which he accomplished by giving the superhero the kind of erection that requires you to pee in the shower, leaning against a wall. Even more funny is the fact that he installed the public penis art above a playground. Even though the piece has been up for over a year, the photos are blowing up The Internet faster than Kanye West's Grindr account, and the artist has been asked to alter the sculpture, or take it down.
READ MORE: 10 Strange Penis Facts That Even I Didn't Know
Sadly, that means that Spiderman's dick will no longer cast a shadow on the impressionable young playground minds of South Korea's children. What is the world coming to?
[
via
]