Whew, the weather is finally warm and I'm ready to get back to physical activity!  That means occasional bouts of yoga, jogs in the park, and countless hours on the eliptical machine trying to tone my post-baby belly back into the chiseled definition that once-was, all while listening to ridiculous techno.  That being said, I always carry a little bag of essentials.  Obviously I've got my ipod, a pair of post-workout flip flops, some sunscreen (to re-apply post workout), a snack, and some boo-boo balm (I'll get to explaining that).
For my post workout flip flop, I actually choose the FitFlop! After all that time in the gym, I want a little extra boost, so I throw on my FitFlops to walk home, run errands, and hang out.  They're actually proven to improve posture, reduce shock, minimize back stress (whew), firm and tone the tush (thank goodness), increase training (hey, why not?), and reduce foot pain (i'm single, no one's giving me foot rubs).  At 59.99, they're reasonable, and they look cute enough to wear around town without the look of a medicinal shoe!
After I've got my flips on, I slather a bit of Supergoop! on my face, neck, and shoulders before heading back out.  The tubes are the perfect size to just throw in my bag, and full of SPF 30 goodness that's perfect for any skin, since it's actually designed for sensitive skin and is dermatologist and pediatrician approved.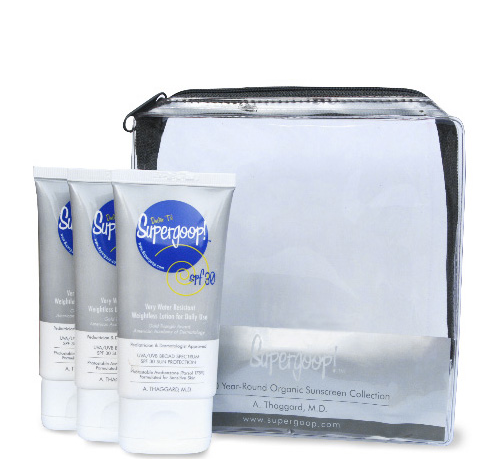 I cheat in the snack department though… After all my extra calorie burning with my FitFlops, and general sun protection, I think I deserve a slight binge.  So my good friends at Chocolate.com (bless that domain name) just loaded me up with some Geoff & Drew cookies that are basically insanely delish. A box of 24 gourmet cookies is just $49.00, and that's not bad.  They're an amazing gift, but they're also just the nicest thing you can imagine after 40 minutes of cardio and 20 minutes of weight training.
And there's one thing I never leave home without.  It's my Boo-Boo Balm.  It sounds ridiculous, but it's amazing.  Grandma Minnie's Boo-Boo Balm is designed for both moms and babies, but I think it's good for everyone.  This little half ounce tub of ointment can work wonders: it's antifungal, antibacterial, antiviral, anti-anything-bad.  That means you can dab some on a blister, chapped lips, a chafed area, a callus, papercut, or even my baby's little tush:) $20 well spent!