Every year, my mother gets all bent out of shape over her Mother's Day swag. Flowers? They die. Candles? Boring. Day at the spa? Who are we kidding? I can't afford that. So this year, I'm taking a different approach. Tomorrow, I will bestow upon my mother natural gifts to accentuate her natural beauty.
I put together a little package of natural beauty products sure to play the perfect wingman to my mom's age-defying skin and hard-to-handle hair. The Yuzu line by Lather is a naturalist's dream. Holistic and aromatherapeutic, these products are an excellent way to destress after the shock of finding out your eldest daughter writes raunchy prose for a website in her spare time.
In her giftbag:
Yuzu Sugar Cane Body Buff– a spa-like exfoliating scrub for which I use to wash off the shame. Seriously though, I am a fan of every skin product made with sugar. Or at least, my inner fat-kid is.
Yuzu Bergamot Moisturizer– this moisturizer contains essential oils Yuzu and Bergamot (because you couldn't tell from the name). It's enriched with hazelnut oil, safflower oil, seaweed extract, aloe, Vitamin E, and a bunch of other good shizz that leaves you fresh-faced and ready for Monday mornings.
Yuzu Bergamot Body Wash– this super-soothing wash is light on the skin and leaves a hint of citrus on your bod. The oils are great for too-oily AND too-dry skin, so everyone's a winner here.
Okay, so my mother does have outstanding skin for her age to begin with, but let's talk about that hair for a moment. By the force of nature, our hair woes are one thing we will never share. I get it, I got the nice, manageable "white people hair" (she forgets about the summer I had dreadlocks for three weeks). Anyway, the good news for me is that I can opt out of blowdrying her hair for her (I pretend I'm afraid to touch it), and the good news for her is that I've made up for that by hooking her up with some awesome products by Surya Brasil.
Before I begin, let's just throw this out there: Brazilians are HOT.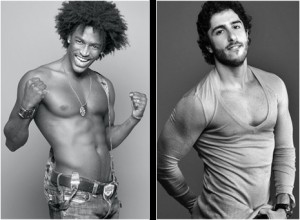 I had to get that out of my system. The women are hot, too. They have awesome hair, and skin, and bodies, and are the only country of people where walking around naked should be required by law. If anyone can help my mom's hair go from hot mess to hotness, it's Brazilians.
Moving on. The Amazonia Preciosa line contains ethically wild harvested raw materials from plants of the Amazon Rain Forest and it smells AMAZING. That's because the Ecocert certified line is free of all artificial ingredients (like silicone, parabens, and synthetic fragrance, to name a few). Instead, the line uses exotic fruit and fruit oils prevalent in Brazil but not-so-common here, like Murumuru butter and Cupuaçú (yeah, exactly). I hooked her up with the Brazil Nut Hair Mask, along with Amazonia Preciosa's facial cleanser (for good measure).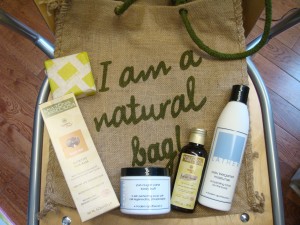 Naturally, I'm not going to singlehandedly save the environment by purchasing green products and proceeding to wrap them up with a hoopla of gift paper. Wrapping paper is a HUGE waste when you can throw the goodies into a chic, reusable Beautorium tote. Plus, I don't live at home anymore and can no longer bribe my little sister into wrapping presents for me.
Happy Mother's Day!