You don't see me post in the "beauty" category of this site all too often, and for good reason.  Generally, I'm damn picky about the beauty products I use and suggest.  I don't like too much "junk" in my beauty, or too many whacky smells, and honestly, I don't have room for 9,093,345,839,456 products in my medicine cabinet.  I am a big fan of products that can multi-task, though, and here are two of my faves.
My gal pal Tiffany Masterson introduced me to the Wonderbar, and I'm pretty sure it's God's gift to anyone with skin.  Last I checked, that was alla y'all.  It's formulated with Heilmoor Clay and something called "chlorey'nahre."  This lil' bar cleanses, tones, moisturizes, and soothes troubled skin.  All you have to do is lather your face up, and let the lather sit for 3-5 mins.  Bam! Perfect skin.  And I'm not kidding.  I've gotten more than a few compliments on my skin lately.  You'll go buckwild for this bar.  And you might even save a little cash if you get this bar… you can dump your toners, masks, and other crazy beauty stuff.  You simply won't need it.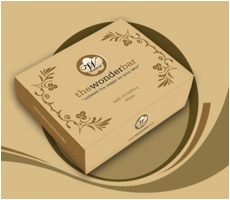 My second wonderful product is the super-cheap, and super-easy-to-use Highly Laminating Glossing Pomade made by Citre Shine.  It's the best damn $3.99 you can spend, is infused with fruit extracts and botanicals that leave a really gentle (not overpowering) scent on your hair, keeps hair hydrated, tames frizzies and flyaways, isn't greasy, and leaves hair shiny enough to see a reflection!  There are so many ways to use this glossing pomade- I rub some between my hands and go over freshly blown out hair for super shine and humidity control, or rub it in my hair after a shower and throw it back in a bun on a hot summer day.  The result is a frizz-free sexy wavy look that pairs perfectly with a wide headband!  And it's available at just about every drugstore, Target, or major store you can find 🙂
Disclosure: All products were provided for review. No monetary compensation was received for this review. All opinions belong to the author.