Cara! Cara! You go from being the model of the moment to closing out a Chanel show to running around with Michelle Rodriguez. You're all over the place and so is your style. Personally, I can't keep up but I love it so much. You're the dirty grunge girl that I've always wanted to be. Whether you're sitting courtside at a basketball game with Michelle or sneaking into your hotel sans pants after a benefit, you're always working it for me Cara.
I'm loving the tartan moto jacket she's wearing here. It's got some flair and it's still pretty badass. It's the perfect jacket to throw over your shoulders and go or throw on with some downtown vibes. I'm loving this similar one. Available here.
You should have a good pair of destroyed denim in your wardrobe. Unless you really did listen to your parents when they asked why you spent money on jeans that are ripped. If you did listen to your parents, you need to cut that shit out right now. Grab a pair of Boyfriend jeans and dress them up or down. I love this pair from Guess. Available here.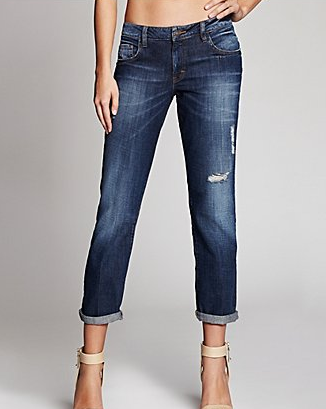 Finally, Cara paired her look with an awesome pair of Timberland boots. The boots were originally made for work wear but have picked up a serious fashion following. Get the same pair Cara is wearing, here. 
Image: SplashNews [via]