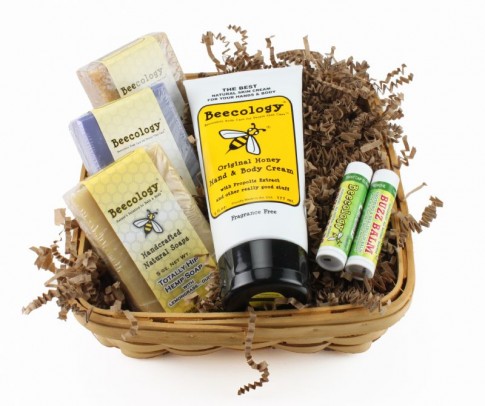 As soon as we got our hands on our first Beecology samples, we were in love. So in love in fact, that we had to share our love with the world – aka you guys!
We all know that the key to attaining perfect skin during the summer is keeping moisturized. With Beecology's beauty ensemble basket, you get three handmade pure and natural moisturizing bar soaps, one tube of healing, moisturizing olive oil and shea butter hand cream for healthy, radiant, touchable skin and two of their famous moisturizing and healing beeswax lip balm, Buzz Balm. Interested? I bet you are. We're giving away 5 of these ensembles this week and here's how you can win yours.
Comment below, tweet at us, post on our Facebook, or send a telefax: What's better: backyard BBQ or park picnic? (I'm all about some grilling!)? Tell us for a 1 in 5 chance to win a Beecology's Moisturizing Beauty Ensemble.
Up your chances to win by following @Beecology and @LuxurySpot on Twitter, and 'like' Beecology and TheLuxurySpot on Facebook!