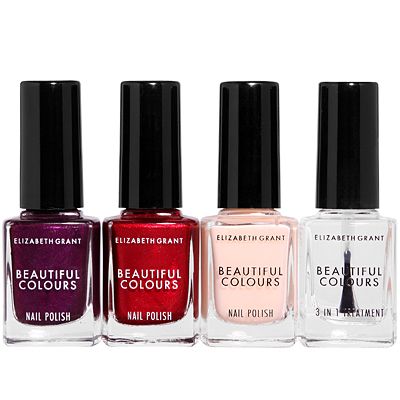 Screech may have been funny on "Saved By The Bell" but it is NOT cute when it's the sound echoing off a chalkboard when somebody scratches their nails against it (shuttering just thinking about it)! On top of the unpleasant ear-splitting sound that makes, that habit also wreaks havoc on one's nails. In an effort to keep people from scratching chalkboards, thus sparing everyone of that annoying sound, we are giving away 5 of Elizabeth Grant's Beautiful Colors Nail Polish gift sets, with the idea in mind that when your nails look as good as they do in these stunning colors – the only thing you'll be scratching is your man's back 😉
FOR OFFICIAL ENTRY:
Comment below, tweet at us, post on our Facebook, or message us via Morris code (just don't chip your nails): what is the most annoying/obnoxious sound that drives you up a wall (babies screaming on a plane? Long Island accent?) and you could be 1 of 5 lucky winners to win Elizabeth Grant's Beautiful Colours ($42 value)!
Nail Polish is set to be one of the biggest beauty trends for Fall/Winter 2012. Elizabeth Grant has hit the nail on the head with these on-trend hues. This 4 piece nail polish set has all your color needs covered for the cooler months, as well as a triple threat 3-in-1 Treatment to battle the damage that the cold weather can wreck on your fragile nails.
Purple Pearl: An intense indigo with a sensational subtle metallic purple sheen, a perfect colour-pop complement to the metallic neutrals and understated greys expected in winter fashion trends.
Red Pearl: Your classic red vamped up a notch with red metallic sheen to create the perfect vibrant party red. You'll be hot no matter how cold it gets.
Peach: A soft natural pink that exudes health and vitality. Even if your nails aren't in the bast shape (yet), this warm neutral will give the illusion of wellness as the 3-in-1 Treatment helps to nurture nails back to good condition.
3-in-1 Treatment: Base Coat, Top Coat and Nail Strengthener all in one. Keep your color looking spectacular for days while growing stronger, healthier nails.
Up your chances to win by following @EGSkincare on Twitter, and 'like' Elizabeth Grant and TheLuxurySpot on Facebook!
– p.s. if you "like" this post we'll like you extra hard 😉 –