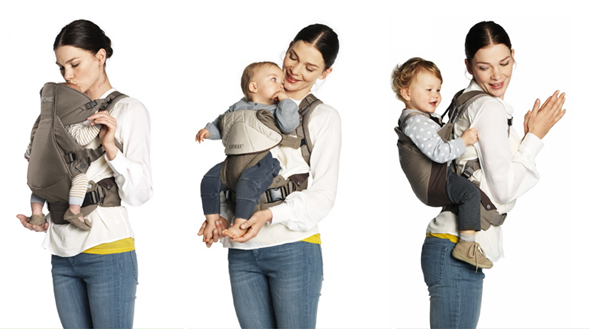 Since it's pretty clear how much I love STOKKE products for my little ones, I thought it'd only be appropriate to share my latest lust with you: the Stokke 3-in-1 MyCarrier, a baby carrying solution that magically keeps your kid happy and your back in tact. 1 lucky winner will get a STOKKE MyCarrier valued at $249. It'll start your relationship off on the right foot with your little one because your hands will finally be free to pick things up whilst shopping for diapers and organic ointments, and any adult will enjoy a totally comfortable, supported back. And it's machine washable, so that's basically the most amazing thing to happen, ever (aside from the birth of your wee one).
The winner can pick their color of choice, and this one is open to US AND CANADA! WOO!
Here's how to enter:
1. Comment here telling us where you'd carry your little one and what color you would choose (check out the colors here). Would you walk around Paris on vacation? Lose the baby weight with daily power strolls? Or maybe just run some errands because you haven't picked up your dry cleaning in like, forever.

2. Tweet at us with this: Hey @luxuryspot I want to win the @stokkebaby MyCarrier! http://bit.ly/10vENeQ

3. "Like" this post on Facebook (the button is at the top of the post).
For extra credit, pin this post on pinterest as well… And keep tweeting up a storm for more chances to win! Make sure you follow @luxuryspot and @stokkebaby and @brycegruber  on Twitter!

VOILA! Winner will be announced in two weeks <3