Gua sha for acne: get ready for this secret technique.
New-to a Pinterest near you is the skincare tool, Gua Sha. This ancient technique has made a sudden break into the American mainstream. It boasts the ability to help tone your skin (and facial muscles), aid in facial lymphatic drainage and, most importantly, inflammation. This got me thinking, can you use Gua Sha for acne?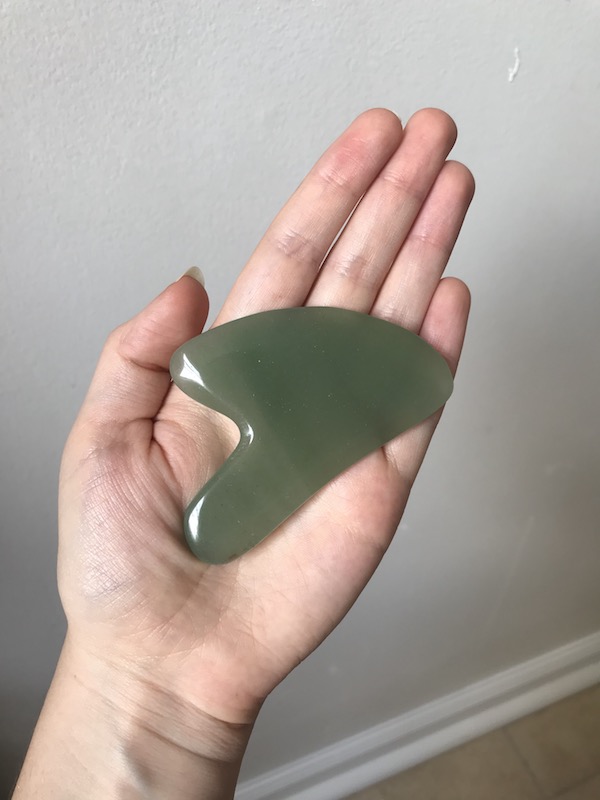 This cute little guy is the Gua Sha tool. They come in a few different shapes and sizes for different massage techniques. If you're fancy you can go for real jade or rose quartz, my cheap choice is made from aventurine.
How I'm using Gua Sha for acne
This palm sized tool has been used in China as a traditional massage tool. Gua Sha has recently become popular stateside, after it's brother, the jade roller, made the leap.
Neck and jaw
Most of my acne and pimple scarring lives around my neck and jaw. Although I haven't had an particularly bad breakouts recently, I'm heading into that time of the month and was hoping a bit of Gua Sha massage would help keep hormonal and fungal acne at bay. I've watched a solid ten tutorials to get this down but my favorite of all is by Sandra Lanshin Chiu, L.Ac. for Lanshin.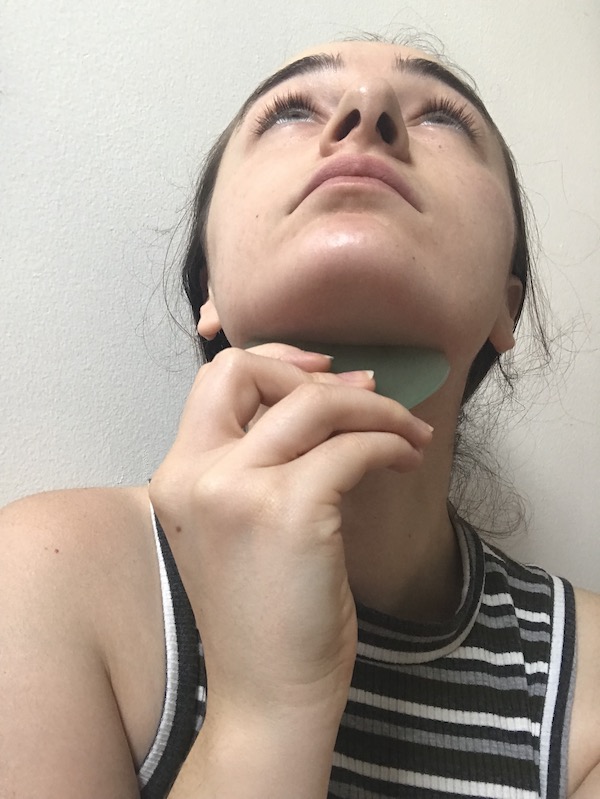 Chu recommends starting with clean skin and massaging with a thin layer of hydration in place for extra slip. She recommends a facial oil, which I know doesn't jive with most acne-prone people. I go for squalene oil which has yet to cause a breakout for me. Each of these steps you'll want to do on both sides of the face, and a solid five strokes or more.
The key for this massage technique isn't to scrape, tug, or pull on the skin. Chu recommends keeping the Gua Sha tool as flat to the skin as possible and using a light to medium pressure. She also recommends moving from the neck upwards. To massage the neck simply pull the tool gently upwards from the base of the neck to the jaw.
The jawline is easily my favorite massage step. Using the space between the two knobs on your jaw, pull the tool from your chin to your ears.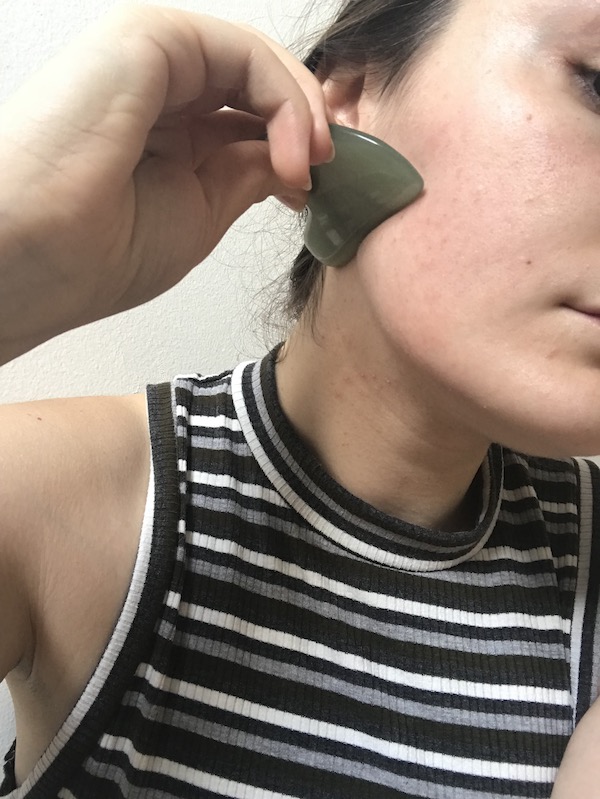 Pro-tip if you have jaw pain, use the convex side to massage the muscles in the jaw.
Cheeks
Next up is the cheek area. I like to use the convex side on the fleshier portion of the cheek, sweeping upwards.
Then I use the concave side over the cheek bone area. Each of these are starting from the side of the nose and going up into the hairline.
Forehead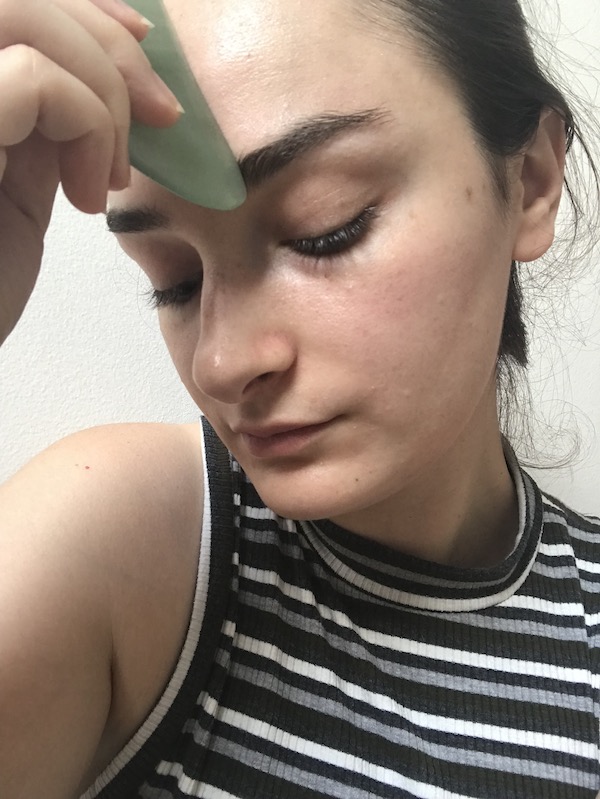 Last step is the brow/forehead. I like to use the concave side to smooth over my forehead and brow bone to the temple area. Then, I take the convex side to push up from in-between my brows to the top of the hair line.
I've been using this tool for massage for just over a week and a half now. Do I think that Gua Sha for acne works? It's hard to say – I've still had a few minor breakouts, but no honking "your period is here" zit has surfaced. Either way I've been enjoying taking a few minutes a day to relax (you can't be tense while massaging your face).
Love this article? For more beauty, style, travel, and trending topics check out The Luxury Spot on Facebook. Like us and we'll love you back!