With warmer weather around the corner, everyone I know is scrambling to get their butts in gear (literally, myself and a bunch of my fave editor friends just started an Equinox bootcamp class… it's BEYOND). Gyms are where people meet and greet these days, and healthy interaction is totally the new bar scene. So, what to pack and wear? Here's my roundup of fashionable fitness essentials: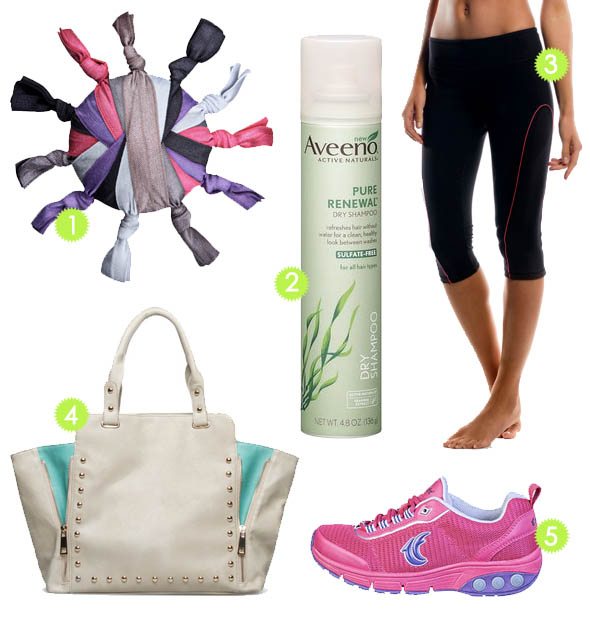 1. Tie it back. Healthy, long hair is always glam, but not when it's sweaty and rubbing all over your neck. Tie it back with some Goody Ouchless Ribbons. They're chic, cheap, and look kind of cool around your wrist when you're all done.
2. Breathe some life back into your hair. If you try out a bootcamp style class like I did this week (if you're an Equinox member I'm basically challenging you to sign up for the ETC classes and let me know if your body doesn't end up shrinking down to military-form after), you're going to be a sweaty mess. But washing your hair every single day isn't a good idea if you want hydrated locks, and honestly, who has the time? I LOVE Aveeno's Pure Renewal Dry Shampoo. It's easy, adds lift, texture, can be found at just about every drug store, and is about $7.
3. Good pants are everything, my dear. Leggings are everywhere, but these are just the right texture and fit, and the pink piping detail is oh so cute. Loving the whole line of fitness apparel by The Vipe. This capri style is on sale now, too. WIN.
4. A gym bag doesn't have to look like a gym bag, you know. If you keep up to date on over-the-top designer bags, you'll know this big beauty is similar to a certain designer that retails theirs for like $3,000. Frankly, the color scheme on this one is more appealing to me, and at $42.95 you'll be able to shove all your gym stuff in (and the wad of cash you saved). Bless your heart, ShoeDazzle designer lady.
5. Totally haute gym shoes. It's no secret I'm a fan of Therafit Shoes for their comfort and style, but did I mention they come in hot pink. Or should I say haute pink? You can find my beauty bestie Aly Walansky working out in these bad boys ALL the time. They've got patented technology that make them just about the most comfortable shoes ever, and if you get them in pink, you'll literally be working out on little clouds of cotton candy. That's all I'm saying.