"Never be afraid to try something new. Remember amateurs built the ark. Professionals built the Titanic"-Unknown
This lovely advice comes to me via the cap of my Honest Mate, a scrumptious cold tea drink from Honest Tea. Besides giving pretty good advice, this stuff is pretty tasty. I like to compare it to Snapple but with a much more home-brewed taste to it, and much better for you. I tried the Agave Mate, which is exactly what you would think of when I say a cold tea..it's a very Earl Grey kind of taste. I also tried the Tropical Mate and let me tell you, love it! It has the same home-brewed taste but with a little splash of tropical flavor, sort of mango-ey, which is my fave! As a coffee fiend (if I don't have my French Vanilla in a travel mug on my morning commute, all hell breaks lose), I like that these teas have about 1/6 the caffeine of coffee..since I get so much in the mornings, I like to cool it during the day so I don't get jittery. The line is also certified organic by the USDA, very reassuring..plus when there are about 4 ingredients, the first of which is purified water I know what I'm drinking and I can feel good about it. They are high in antioxidants and low in calories and sugar..but don't worry there is "just a tad" of sweetness to the drinks, not overbearing but just enough to make it yummy.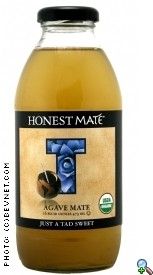 While on my actually good tasting health kick, I picked up some Granola Girl granola, Maple Pecan flavor. Keeping with the theme of today this delish granola is organic and good for you–it is high in fiber, protein, and omega 3's. I'm really not much of a nut fan, but this stuff is pretty freakin' good. I like to leave it in my car for the after work/before dinner snack that I won't regret later. So, whether you are one of my earthy chics or are just looking to treat your body better take my advice and try to switch it up to products that are not only good for your taste buds but for you health as a whole!