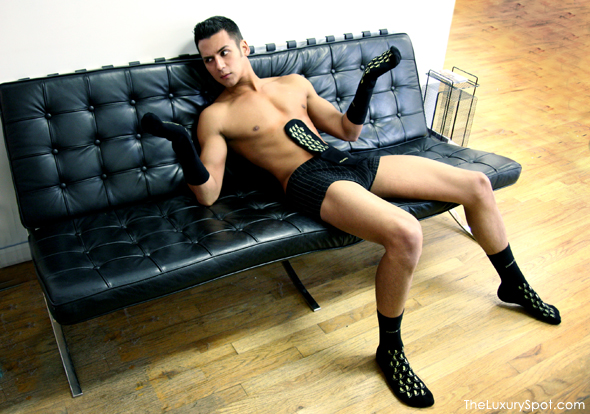 Our offices here at The Luxury Spot are all abuzz about the newest IT gift this season, moisturizing socks. The inside of the socks are coated with a substance that locks moisture in, leaving your feet soft and touchable. They have an interesting texture and feel, sort of like silicon and an apple pie had a baby.
Being the deviant I am though, I couldn't help but come up with several other uses for them.
Do you have a husband that is constantly asking you to do the dishes or clean the house? Just slip two of these bad boys over your hands with a squirt of moisturizer and tell him you are busy with your beauty regimen. If he complains, give him a hand job. Your hands will be so smooth he will soon be doing the household chores for you.
Masturbation. I know all of you were thinking it, which is why I have no problem being the person to say it. These socks are much more portable and less conspicuous than a large, clunky flesh-light (which I also own). With a few drops of lubrication, the socks become the perfect masturbatory tool for the discerning gentleman. Imagine packing these in your overnight bag for a weekend at moms, or going through airport security without embarrassment.
Have a military husband? Worried that he will get lonely in those barracks? This sock, coupled with a small bottle of lube is the perfect holiday gift to send overseas. You can keep the other sock for your feet. It's almost romantic.
Have an adolescent teen brother who spends WAY too much time in the bathroom? This sock is the gift that keeps on giving – even up to 7 times a day. Your parents will think you are just taking an interest in  your brothers skincare regimen. The good news is you don't need to awkwardly wink and tell him what its for. Is he is a male anywhere between the ages of 13 and 17, he will figure it out.
The holiday season is upon us, and we are all looking for the perfect gift. Elizabeth Grant moisturizing socks are not only a great value, but an awesome stocking stuffer, in more ways than one.