Now that summer is steadily approaching, the ocean is probably calling your name. If you have ever been to the beach, you know how inconvenient it is to have sand in the crack of your ass. If you have kids, you know that sand in the crack of your ass is low on the list of inconveniences when you are planning a beach day. Its hard enough to get yourself together, let alone plan for all the rugrats that will undoubtedly be piled into your car after it is discovered that you are heading to the sea. Luckily, I have tracked down some tips for you, to make that summer beach day just a little easier.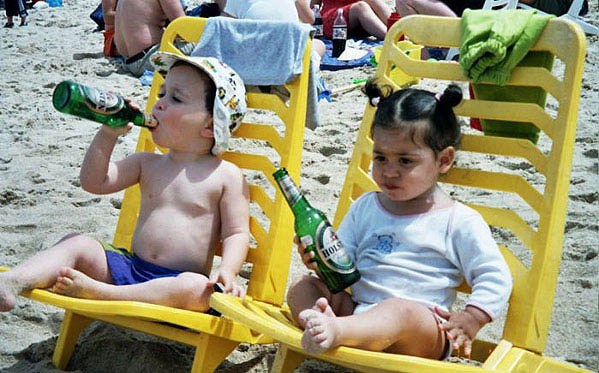 Everyone carries their own crap and plans their own lunch– Get each of your kids a bag with their towels, toys, and lunch. Let them choose what they want to eat for lunch and what toys they want to bring. I know this sounds impossible but letting them have a choice will guarantee they like what they eat. Putting them in charge of their own sh!t teaches them responsibility, and holds them accountable if they lose something in the ocean. It will also keep them from bothering you every five minutes asking for their towels or juice boxes.
Buy towel robes instead of regular towels– The hood on a towel-robe not only keeps them warm and provides them with someone else to play with, but it also makes it harder for them to lose because it latches onto their heads. It is also easier for them to identify their towel robe so you don't risk them trying to bring your monogrammed show towels into salt water. Here is a link to a cute gingham one from Pottery Barn Kids.
Use spray-on sunscreen– Trying to rub down each of your individual children throughout the day is a waste of time, especially since they will just go back into the water. Telling them to close their eyes and mouths while you coat them down while taking sips of the red wine you hid in your coffee cup is much easier. If you have a super-small kid, here is a baby-safe option from Diapers.com.
Use an umbrella with a rubber mallet– Chances are, you probably had your fair share of sun when you were younger. Chances are greater that one of your kids is going to get tired of the sun before long and want to relax. Get an umbrella. Bring a mallet to pound it into the sand. There is nothing less graceful than a woman trying to shove an umbrella stick into hard packed sand.
Use baby powder to get rid of sticky sand– This is a little known trick but it works. If your kids have sticky sand on their hands or feet, cover that area with baby powder before they get into the car, and simply wipe away. As everyone knows, the worst part of going to the beach is the sand that coats your crevices afterwards. This trick is helpful with rashes too, so don't be afraid to be generous around your children's butt-cracks.
[
via
] [
via
]