As the wife of an Israeli and the mother of some small middle eastern babies, I'll tell you the honest truth: my fridge is always stocked with hummus. Hummus is to middle eastern people what air is to everyone else: a total necessity for life. Hummus also crosses all social and political lines: there's peace in the middle east when it's just some hungry people sitting down to a table full of hummus. And, as a mostly-vegetarian gal, I'm always looking for the next falafel and hummus watering hole.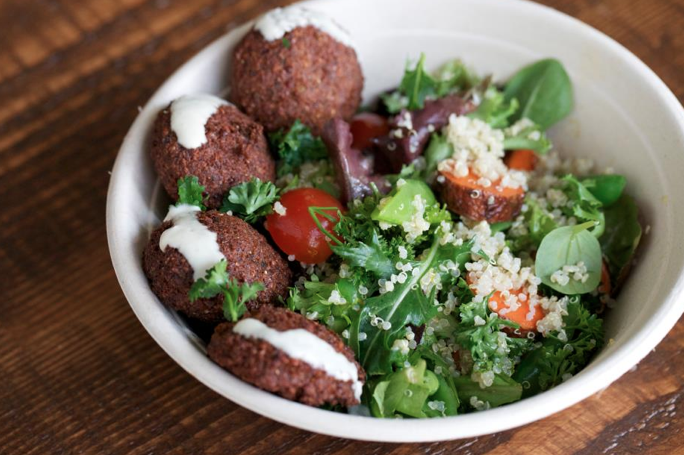 If you're in Los Angeles: George Abou-Daoud's new fast casual Lebanese-Mediterranean eatery celebrates the world's healthiest and tastiest diet and is inspired by his mother's cooking. Urban Garden features an array of homemade, traditional and unique dishes that will satisfy both meat lovers and vegetarian/vegans alike. The menu includes pita wraps, rotisserie lemon herb chicken as well as 2 or 3 items combos featuring Lebanese specialties such as hummus, babaganoush, lebneh yogurt, chickpea & quinoa falafel, tabouli, fattoush salad, vegetarian kibbeh, lentil mujadarra, stuffed cheese rolls, fried cauliflower, chopped rotisserie chicken, marinated fresh cuts of lamb carved from a vertical broiler offered the traditional way; no fillers and no pressed meat. "Everything on the menu is made fresh daily with locally sourced produce. This cuisine is just as tasty as it is good for you," he explains. The falafel, hummus dips, and babaganoush are made with organic chickpeas.
Check it out at EatUrbanGarden.com or @boweryst on Twitter
If you're in New York: Try Soom Soom vegetarian- they boast seriously the best tahini to ever be drizzled on any sandwich, ever. Their falafel balls are bright and crisp, and their hummus is good enough to put on just about anything. My husband has been caught dipping almost everything other than chocolate cake in Soom Soom's magical chick pea concoction. They, too, are free of junky chemicals and preservatives, and offer a more mega-healthy-fast-food approach.
They have Midtown and Upper West Side locations, so get your falafel on where it's convenient for you.