Charcoal toothpaste is a dangerous trend
It's what we're all wondering — is charcoal toothpaste bad for teeth? If there was a sneaking suspicion lurking in the back of your mind, congrats, your intuition is spot on according to Dr. Dustin Cohen of The Practice Beverly Hills.
"Charcoal and whitening toothpastes are highly abrasive and can cause permanent destruction to your tooth structure," says Cohen. "They're basically sand paper in a tube!" The abrasive properties actually scrub away the gums and white enamel of your teeth, actually leaving a darker layer of tooth behind. Sounds scary, right? All the more reason to try this shade of lipstick to make your smile seem whiter and younger.
"On the toothpaste abrasivity scale, toothpastes that measure 70 and below are generally considered safe for your teeth. Whitening and charcoal toothpastes generally measure 100 to 200 — much too abrasive to be safe."
Arm & Hammer Advance White Sensitive Fluoride Anti-Cavity Toothpaste, a popular drugstore whitening choice, happens to ring in at 70 on the abrasiveness scale, making it a safer choice — especially when compared to charcoal-based options.
"Using whitening and charcoal toothpastes will not only damage your own teeth and gums, but it's also a great way to destroy the shine on your porcelain veneers," he explains. "The shine on a veneer is a glaze that has been baked on the porcelain. The heavily abrasive toothpastes will wear away the glaze significantly quicker than intended. That can happen in one to two years instead of the more typical 15 years."
So, is charcoal toothpaste bad for teeth? Yes! What now?
"If you want the trendy effects of the charcoal whitening without permanently damaging your teeth, try the new Waterpik Whitening Water Flosser. It uses pressurized water and a tablet of glycine to remove surface stains on your teeth. Glycine is an amino acid that has the perfect amount of abrasiveness to remove stains without harming your teeth or veneers."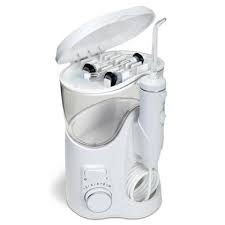 "See your dentist, obviously," says Cohen. "But the easiest thing you can do to keep your smile sparkling is to drink your coffee and tea through a straw placed behind your teeth. Trust me, it will keep them stain free for longer."
Love this article? For more beauty, style, travel, and trending topics check out The Luxury Spot on Facebook. Like us and we'll love you back!