The Trolls Experience in NYC is every toddler's dream
If spending the day hugging and filled with glittery feelings sounds ideal to you (it should), heading over to the Trolls Experience NYC should be high on your to-do list while it's open through May 2019. Here's why.
It's every toddler's dream

Even if your toddler or little kid hasn't already gotten addicted to the Trolls movie, the entire Trolls Experience is a happiness oasis.  From the moment you walk in, Trolls sound track music is cheerfully playing and colors and visual cues abound. It's a complete sensory experience that'll give little ones a lot to think and talk about for days to come. And yes, they'll get to meet and hug Poppy.
The Trolls Experience NYC is ideal for budding makeup artists
You can buy two separate levels of tickets, the first is a less expensive general admission-style ticket that allows just about everything on-site except one thing — the hair and makeup styling studio. For an added fee your little one (or you!) can become a real troll. The upgraded ticket offers a full face of paint to match your favorite troll and an accompanying troll hair wig. Yes, you can take the wig home.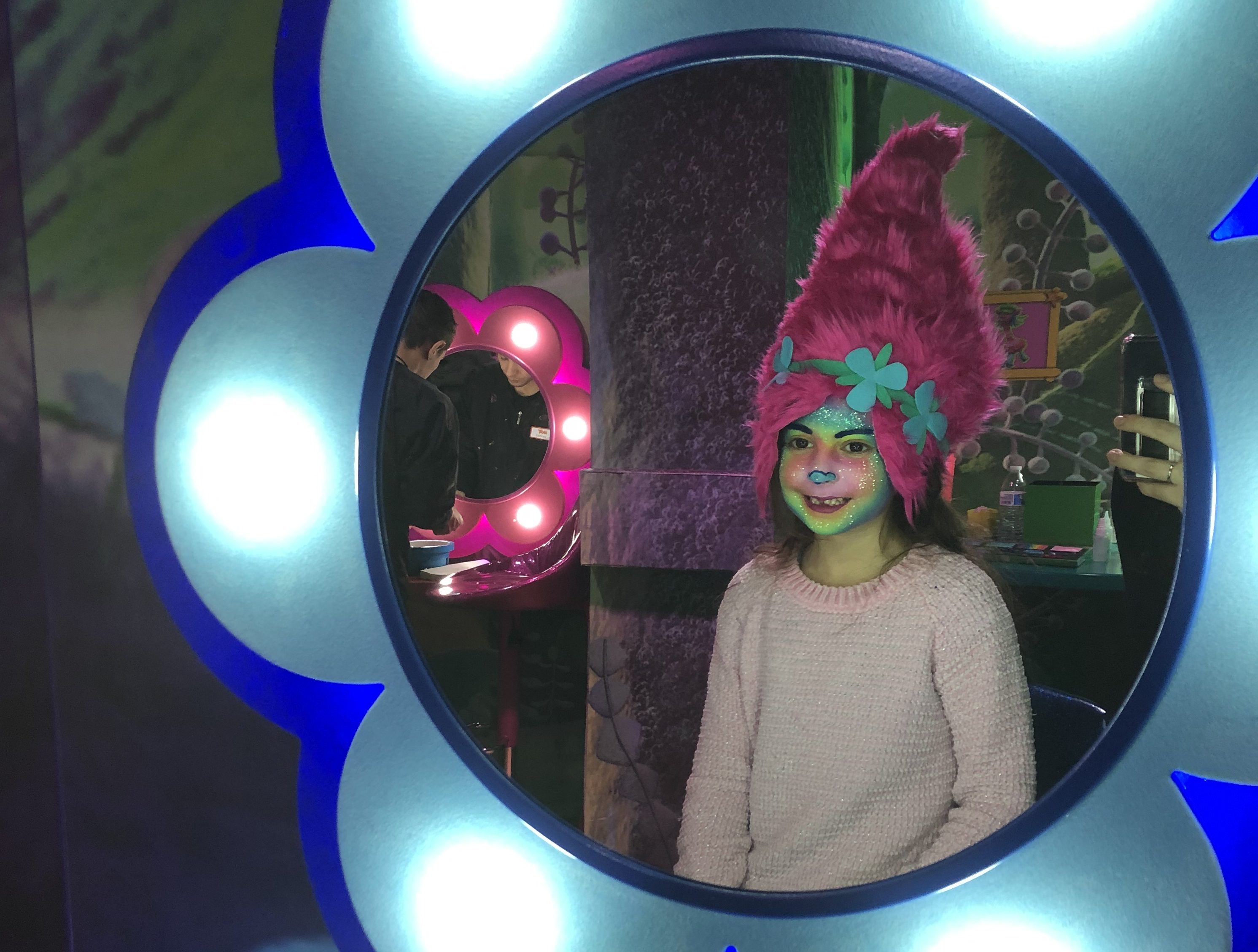 If you don't mind spending a little extra dough, this makes the entire Trolls Experience so much better. Spending a few hours there is great, but when your little one is fully decked out as a real-seeming troll, you get a whole day's worth of joy.
You can bring kids of all ages
Sure, it's ideal for little ones ages two through six or seven, but there's enough to do and see that younger babies and older kid will get a kick out of it, too.
It's centrally located
The Trolls Experience is located in the heart of NYC on West 57th Street next to several subway lines, a two to three minute walk from Columbus Circle, and a short walk from the East Side and all the joys of 5th Avenue.
There's candy at the end of the rainbow
Leprechauns have their pots of gold at the end of the rainbow, but the Trolls apparently have candy at the end of their rainbow road (really, there's a rainbow road inside). The experience ends with a stop in the Trolls candy and gift shop, and it's adorable. You can pick up plush Poppy dolls, Trolls-themed cupcakes, colorful candies, and other doodads you really don't need, but will certainly want. If you loved our unicorn ice cream in New York discovery, this is definitely for you.
Speaking of rainbow roads
There's a rainbow path painted on the floor of the entire experience so everyone knows what direction they're heading in at all times and can't get lost. It's ideal, and if a kid runs off and gets scared they're without a parent, they just have to hop back on the rainbow path to find their way.
There aren't too many opportunities to get lost though, and friendly staff members are constantly ushering each group into activities.
The 3-D portion will get you dancing
Even if you're the most stoic-presenting adult out there, the 3-D portion of the Trolls Experience features bright colors and upbeat, very dance-worthy Justin Timberlake music. If you don't find yourself dancing at this portion, you're either not human or dead inside and need to have your pulse taken. It's the best. Plus, there's something really gratifying about picking colorful 3-D glasses at any age.
You can find details on The Trolls Experience dates, hours, tickets, and location here.
Love this article? For more beauty, style, travel, and trending topics check out The Luxury Spot on Facebook. Like us and we'll love you back!