The one thing I hate about summer is frizzy hair, and I know I'm not alone when I say this. Right girls? There is nothing worse than getting ready in your nice air conditioned home then going outside into humidity and getting all frizzed up.
I'm always skeptical about hair products that claim to be "anti-frizz" because let's face it, we have tried them all.  They just turn out to be either a greasy mess, or serve no purpose and I must say, my luck changed after I tried Paul Labrecque's "Straight Style" anti-frizz smoothing balm.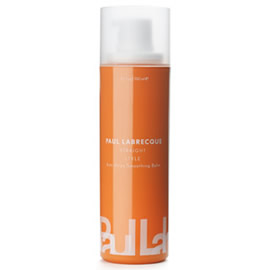 Paul has made me a believer that there really is a perfect anti-frizz hair balm out there. I know this one is for me. It's like a love story, except- this balm can't break up or cheat on me and I will keep it by my side forever. Forever.
It's no wonder that Paul's products have been featured in popular magazines such as Details, In Style, Allure, and Vogue. His products are amazing! With Camellia oil and plant extracts, the smoothing balm leaves your hair silky and shiny, not greasy. All you need is 2-3 pumps of this miracle anti-frizz balm in your hair before blow drying, and guaranteed the frizz will stay far away- and did I mention the balm also safeguards hair from heat damage? This magical balm is a total double threat. Heat protection and anti-frizz all in one, all for $22.00. What more could a girl want?
To really keep up on amazing color-treated hair while fighting frizz, give Paul's Color Style- Fade Prevention Foam a try. The foam helps preserve your color investment (I know my blonde is an investment!) to keep it in tip-top shape at all times. The foam keeps your hair properly hydrated, and gives it an amazing, glittery shine. The fade prevention foam is $22.00 for a 6.9 fl oz pump.
It's no wonder stars like Rihanna, Paris Hilton, Reese Witherspoon, and Brooke Anthony turn to Paul Labrecque for amazing, hair!
(Ok, I may not be a star, but judging by the way my hair looks, Paul sure makes me feel like one!)
All of Paul Labrecque's products can be purchased online, or you can stop in at one of his three New York locations.
Disclosure: All products were provided for review. No monetary compensation was received for this review. All opinions belong to the author.