I'm going to go out on a limb and say that you're under the impression that a mullet toss is the literal throwing of humans with mullet-styled hair. It's not, but I'm betting a lot of the people involved in said mullet toss DO have mullets on their heads.
Perdido Key, Fla. is well known for white sand beaches and turquoise Gulf waters. The sixteen mile-long island is home to Big Lagoon State Park and Gulf Islands National Seashore, which is a gorgeous stretch of Florida homeland. It might actually be more famous for an annual tradition that started more than 30 years ago at beach bar Flora-Bama, where thousands of people of all ages line up each April to take their best shot at throwing a dead mullet—a popular and plentiful fish indigenous to the area—across the state line.
The first Mullet Toss was a small affair, held on a July 4th weekend in 1985. But once CNN aired footage of former University of Alabama and NFL quarterback Kenny Stabler throwing the fish in 1988, there was no going back.
Let's take a minute to digest this: people line up to not only hold dead fish, but throw them competitively. I know you're thinking 'well yeah, all the weird crimes, meth, and weirdos live in Florida,' and you're right– but this seems like a competition that needs to be opened to a wider audience. Why? Because I assume the competition will be far more interesting when people, like bodybuilders from California or muscle heads from Long Island, will make their way down to take the figurative gold in this competition.
Locals and experts expect over 1,000 fish tossers this year.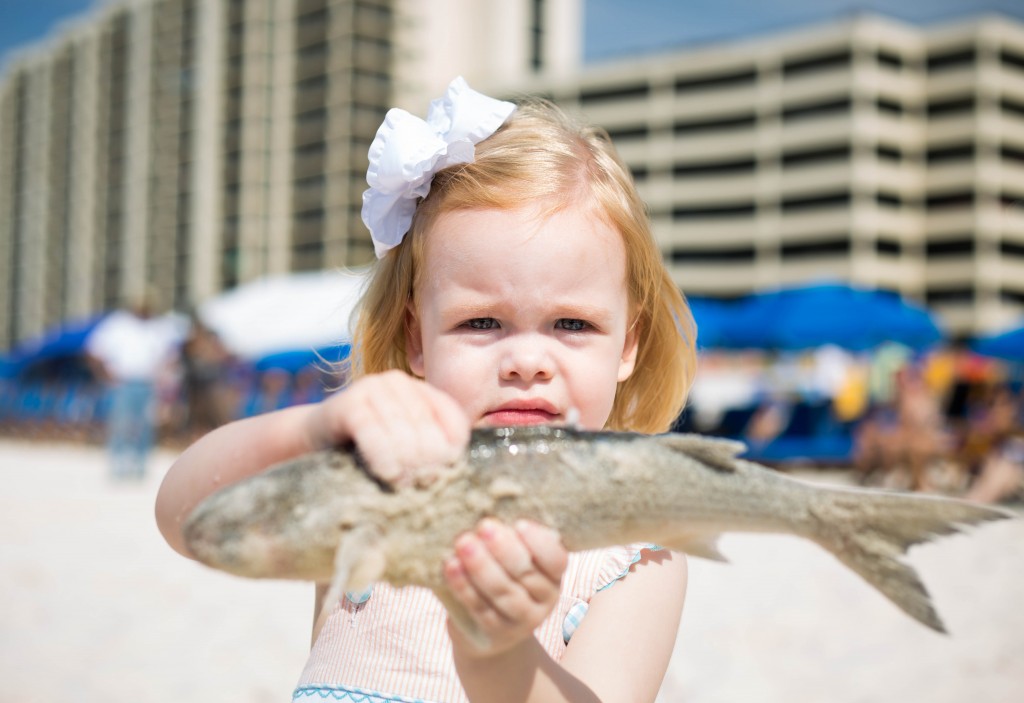 The current Mullet Toss record is 189 feet and 8 inches, set by Josh Serotum (not a typo, I swear) in 2004. In a bid to overthrow him in 2008, Roald Bradstock, a former Olympic Javelin thrower and one-time world recorder holder in that event, launched his mullet 169 feet and 9 inches, falling short by almost 20 feet. (Undaunted, Bradstock then broke his own Guinness World Record for throwing a cell phone, sending it 211 feet and 8 inches. Note to self: don't get in a heated argument with Bradstock.).
There are rules,  of course. You can't bring your own mullet. No gloves are allowed. You can't load your mullet with sand or other substances, although some contestants have given their mullet a sip of beer. You have to fetch the fish after it's been thrown, and stepping out of the 10-foot throwing circle or tossing the mullet out of bounds will result in an automatic disqualification.
The popular beach bash also raises money to support good causes. This year's event is expected to generate $20,000 for Community Drug & Alcohol Council.
One can only assume that the majority of the party-goers and participants directly benefit from this charity.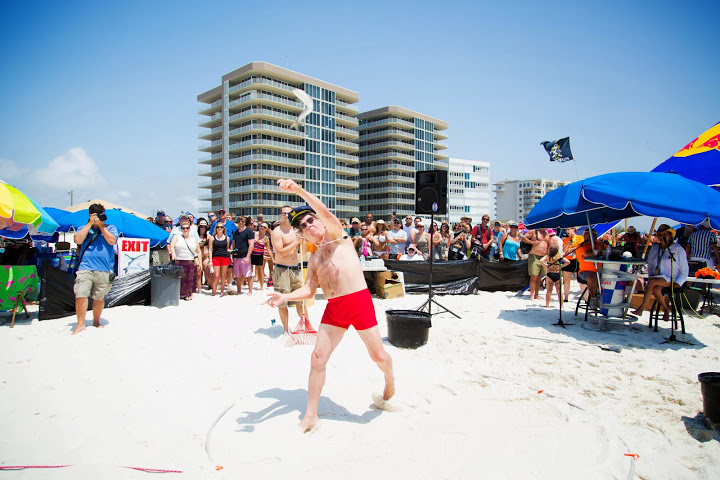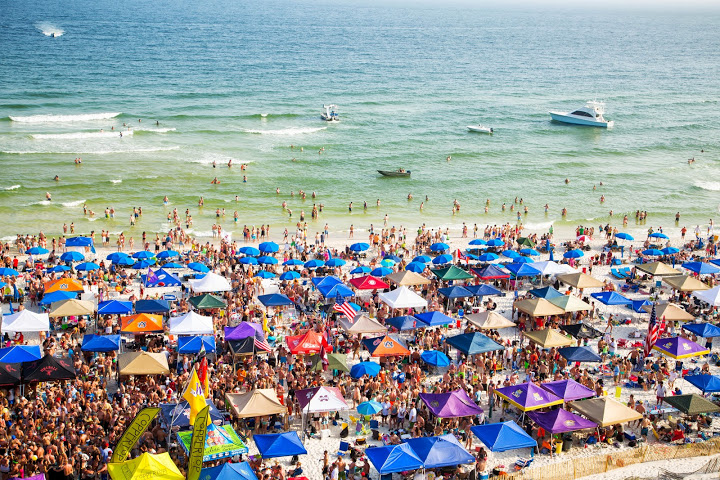 WANT TO GO?
• WHAT: Flora-Bama Interstate Mullet Toss and Gulf Coast's Greatest Beach Party
• WHERE: Flora-Bama, 17401 Perdido Key Drive, Perdido Key, FL
• WHEN: 10a.m.-closing Friday, Saturday and Sunday, April 24-26; celebrity tossers at noon each day
• COST:  Free to watch, $15 entry fee to throw. Registration forms on the beach.
• ONLINE: http://www.florabama.com/events/interstate-mullet-toss-and-gulf-coasts-greatest-beach-party