If you're finally over the abundance of $5 PBR & Jim Beam combos that plague our fair city, try some of these specialty cocktails on for size.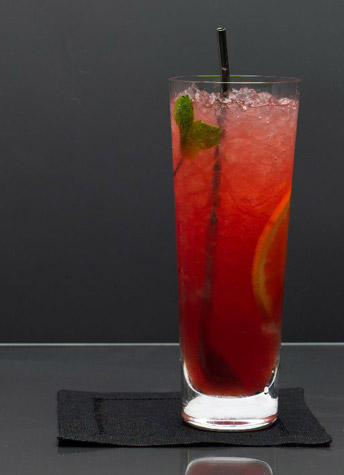 Singapore Sling: Once dubbed the 'Million Dollar Cocktail,' the Singapore Sling is arguably one of the most famous cocktails to trace its roots to a hotel bar. Born in 1887 at The Raffles Hotel, the original recipe has since been lost– but a delicious iteration can be found at Forty Four at Royalton (44 W. 44th St.). Gin, Cherry Heering, orange liqueur, fresh organic pineapple juice, and the rest of the Sling's signature ingredients will have you ready to book a one-way ticket to Singapore City.
Carrot Sake Martini: During a dinner date at Rogue Tomate (10 E. 60th St.), I sampled (read: hoovered) several delightful cocktails– but the Carrot Sake Martini is a force to be reckoned with. I was a bit under the weather, and this antioxidant-infused drank gave me the boost I needed to enjoy the orgasmic organics on the menu (Black Winter Truffle Riostto, anyone?). This blend of Junmai Sake, fresh squeezed carrot juice, Clementine, and Yuzu is not to be missed.
Caupona: A staple at the trendy Asellina (420 Park Ave.), this Tequila blend can be easily whipped up at home.
You'll need:
2oz Don Julio Reposado Tequila
1oz fresh lime juice
1oz pineapple juice
Spicy apple (just dip a green apple in cayenne pepper).
Combine, shake, and strain into a martini glass. Garnish with your spicy apple.
TIP: If you're a Tequila nut, check out La Biblioteca de Tequila (622 Third Ave.), a Tequila bar tucked beneath Chef Richard Sandoval's Zengo. Choose a bottle from their extensive catalog (they carry 400 options!) to take home, or leave it in one of their Tequila lockers. For six months, your bottle await you in La Biblioteca, like the stepchild you forgot to pick up from softball practice. Stop by and sip on it anytime you like– the bartender will mix up a drink for you, free of charge. Plus, they have tacos.