Recently got to see a friend I don't get to see nearly enough.  I know this not only because I miss her terribly, but also because when I saw her she looked five years younger!    Whenever we're out people tell her she looks like Sandra Bullock—well, because she does—but she doesn't have Sandra's resources so I had to know what was giving her skin its youthful glow.
She told me she had just started using Jolie MD Metamorphosis and the results for her were almost immediate.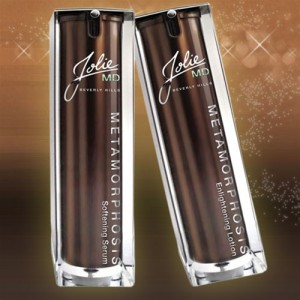 Metamorphosis is a two part system with a softening serum followed by an enlightening lotion.  It evens skin tone and lessens the look of dark spots and in my friend's case; she says it also reduces dark circles from too much work and not enough sleep.  It definitely worked for her!
She looked rested and refreshed–two things I know have to be nearly impossible because of her insane work schedule and her visits upstate to watch her son play college football.  Yup–college football!  And people still say she looks like Sandra from when Sandra was in Speed.
ShopJolieMD.com $96
Disclosure: All products were provided for review. No monetary compensation was received for this review. All opinions belong to the author.