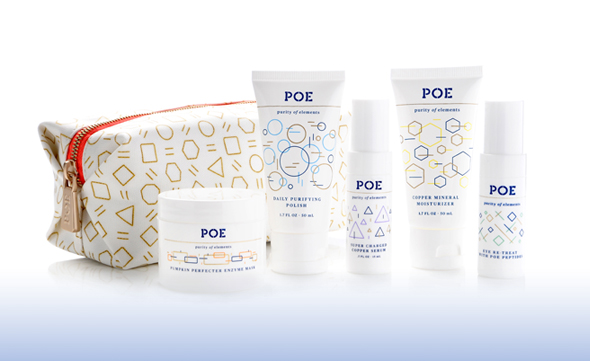 Oh, so you're into seriously intense skincare that kicks the ass of aging? GOOD, we're bringing you exactly that.

We're giving away 5 (read it, FIVE!) complete Preventative Skincare Kits from POE Purity of Elements worth $84 each. Let me make something enormously clear to you: if you have dull skin, the Pumpkin Enzyme Mask will change you. And maybe make you believe in skin fairies or angels or something. I have a habit of using the pumpkin enzyme mask as I deep condition every Sunday night, sip tea, and catch up on reading. It's the best 30 minutes any woman with the desire to have bright skin can give herself, really. So, lucky you, you can score some for free!
Open to US and Canada residents.
Here's how to enter:
1. Comment here telling us what your favorite Spring beauty routine is. Is it swapping out your foundation to a powder? Going from matte to glossy? We want to know!

2. Tweet at us with this: Hey @luxuryspot I want to win @poeskincare! http://bit.ly/WJcLQ9

3. "Like" this post on Facebook (the button is at the top of the post). Post it to your wall, and generally go crazy. We love that.

…Make sure your email address is part of your login when you enter the contest, otherwise we don't have a way to contact you if you win!

For extra credit, pin this post on pinterest as well… And keep tweeting up a storm for more chances to win! Make sure you follow @luxuryspot and @poeskincare and @brycegruber  on Twitter!

VOILA! Winner will be announced by April 2, 2013