As part of their summer-long series of free fitness clinics,

Backbone and Wingspan will be hosting this
FREE Power Sitting Posture workshop at their studio located at
115 West 30th Street, Suite 1209, on Tuesday, May 19th from 6 – 7 p.m.

Reserve a spot now by calling 212-647-8878.
Nancy Golike's Pilates-based resistance band exercises serve to restore balance by releasing the short/tight muscles of the chest, shoulders and neck while simultaneously strengthening the overstretched/weakened muscles of the mid-back.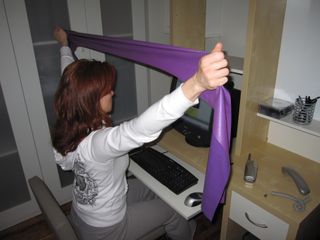 Click here to find out more!