An 80-year-old man has become a train conductor for rescue dogs… and yes, there's a real rescue dog train for the little woofers to enjoy.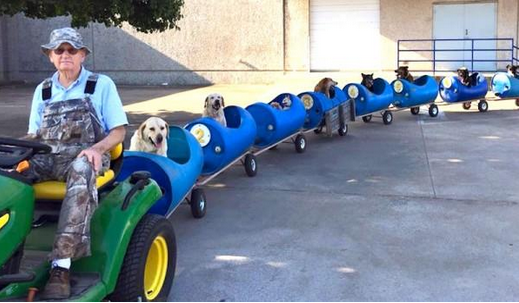 Eugene Bostick is the owner of a horse farm in Texas. He lives at the end of a dead-end street where people often dump stray dogs to die. He spent the majority of his life caring for animals so he started taking in and rehabbing the poor pups abandoned near his home. This eventually led to him creating a tractor-trailer-train with nine cars, which he uses to take his rescue dogs on field trips around town. Confused yet?
Bostick first started taking a few dogs for rides on his trailer, which they really enjoyed, but he soon realized he didn't have enough room for all his four-legged friends. One day, while out lollygagging he saw another farmer pulling a trailer with carts attached to it to haul rocks.
He obviously said, "I thought, 'Dang, that would do for a dog train.' I'm a pretty good welder, so I took these plastic barrels with holes cut in them and put wheels under them and tied them together."
READ MORE: Zumba for Dogs: It's a thing
Now the farmer-turned-animal-angel can be seen all over his hometown pulling a stray dog train with 9 pooches in tow. You might think he is doing this for the attention, but he is 80 years old. He says he just wants to do some good before he dies, and enjoys making his dogs happy.
There should probably be more people out there like Eugene, because there are definitely enough stray animals out there.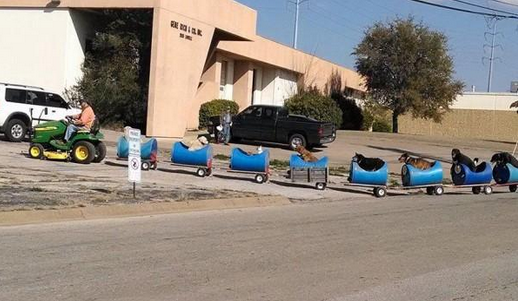 [
via
]