This week we found our way to Peter Lugar alumni Arturo McLeod and restaurateur Benjamin Prelvukaj's Benjamin Steak House in midtown. We were warmly greeted at the door by Victor, the friendly maitre d' and de facto leader of a small army of waiters, who ensured our coats were quickly whisked away while we waited for our table.
After walking through a long and slightly narrow hallway, the restaurant opens up into a generously appointed dining room with 30-foot ceilings, large chandeliers, and a log ablaze in the fireplace. For two, the best tables in the house are up on the small second floor balcony overlooking the main dining room, which is separated enough to offer some privacy while still being connected to the energy and commotion from below. For larger groups, there are two large tables in slightly recessed alcoves flanking the fireplace and two more built into round leather booths. If you are going for a special occasion, make your reservation early and request one of these.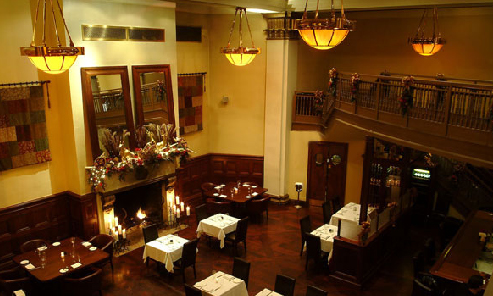 The decor is notably masculine, as are the staff, which other than the hostess and two bartenders, are entirely male. They do, however, all operate as one well-tuned machine and service is quick, friendly, and precise. Our waiter seemed to show up at exactly the time we were ready for him or needed something, but was not omnipresent and intrusive.
The food is standard steakhouse fare. The theme here is delicious food, generous portions, and top notch service, not inventive dishes and excessively fancy presentations. The appetizers are all seafood based except for the Canadian bacon, and other pre-main-course items include an iceberg wedge salad, beefsteak tomatoes with fresh mozzarella, and onion soup. For entrees, the selection includes your standard fish options, lamb and veal chops, and their signature aged steaks in a few different cuts; steak for two/three/four (a porterhouse) along with a sirloin, rib eye, and filet. On the side you will find a nice roster of vegetables and potatoes in various preparations. The wine list is just long enough to be considered extensive and covers all price ranges, but unlike some places, the non-sommeliers amongst us (myself included) will not feel like they are reading a phonebook. Here's what we had:
Canadian Bacon
A thick cut piece of grilled Canadian bacon was an unexpectedly nice start to our meal. The bacon alone was a bit salty but their homemade steak sauce cut it perfectly.
Crab Cakes
A standard issue crab cake; nothing more, nothing less. The lump crab meat to breading ratio was well balanced and the two crab cakes were plenty to share.
Steak for Two
In classic Peter Lugar style, the steak comes out already sliced and on a sizzling hot plate. We ordered ours "medium rare plus", a custom temperature recommended to us as a workable compromise between myself, who generally prefers a steak that retains its ability to produce a faint mooing sound, and Danielle, who prefers her food hot. We were then presented with an overly generous portion of porterhouse, cooked to perfection and swimming in a small sea of browned butter (referred to by waiter as "juice"). I generally prefer the more bodied NY Strip side of the T-bone over the filet, but in this case both were flavorful and melt-in-your-mouth tender; a clear artifact of the quality of their beef and in-house dry aging process. The seasoning was light and complemented the flavor of the steak perfectly without being overpowering.
Asparagus, Broccoli, Mashed Potatoes
The vegetables were cooked just right and served plain and simple, sautéed with butter. The mashed potatoes were light and creamy but still substantive. The steak was clearly the highlight, but these three played their accompanying role nicely.
Creamed Spinach
While this normally would have been grouped with the other sides above, in this case, the creamed spinach stands alone. In fact, this spinach is the creamiest creamed spinach I ever did taste; don't look in the vegetable section of your food pyramid for this one. When you go, ordering this on the side is a requirement.
Dessert
No comment. By the time dessert came around, the thought of eating another bite of food was less then settling.
The food is good, the atmosphere is refined but not pretentious, and the service is on point. Come hungry and bring your pocketbook, because the portions are extra large and come with prices to match (plan on $40 for entrées and $10 to $15 for apps and sides). Luckily, Victor is always available to help roll his stuffed and satisfied patrons down the hall and out of the restaurant.
 
Address:
52 East 41st
(between Madison and Park)
New York, NY 10017
Phone: 212-297-9177
Fax: 212-297-9146
Open for breakfast, lunch, and dinner
www.benjaminsteakhouse.com