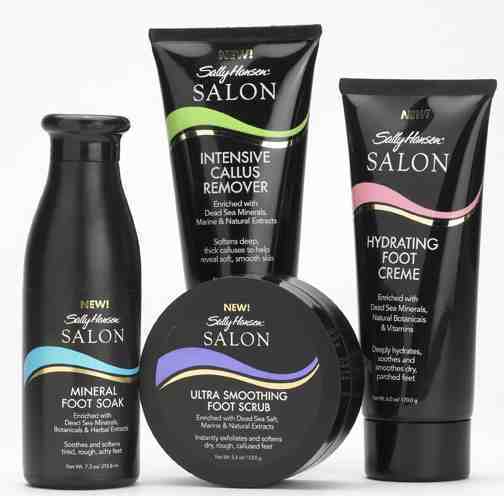 As a young twenty-something with feet that much more resemble those of an 80-year-old woman who has never, ever, worn shoes (and yes, I regularly get professional pedicures – actually more than regularly according to my credit card statement), I am always looking for ways to spruce up my soles. So if summer's sandals have you, like me, sulking because your feet are just too darn gross to show, have I got a (surprisingly cheap) solution for you from Sally Hansen that will have you poo-pooing the professional pedicure in favor of this 4-step, economical, and efficient at-home version.
To treat tired toes, start with the Mineral Foot Soak. Enriched with Dead Sea salts, botanicals, and herbal extracts, this soak soothes, softens, and scents feet with its therapeutic aromatherapy benefits for a calming and conditioning start to the perfect pedicure.
Polish away those newly softened rough spots and calluses with the Ultra Smoothing Foot Scrub. With Dead Sea Salts, marine botanicals, and natural extracts, this cream, when massaged into the skin, removes rough, flaking skin for instantly smoother soles.
For those especially stubborn calluses, Sally, again, has you covered with her Intensive Gel Callus Remover. Formulated to penetrate thick, dry skin, this Callus Remover removes roughness for instantly renewed and resurfaced tootsies.
Finally, finish off with their luxurious yet lightweight Hydrating Foot Crème that not only locks in moisture for softer soles, but also prevents future callus formation when used daily.
For fabulous feet, use now (and often).
Products are $7.95 each. See sallyhansen.com for retailers.
Disclosure: All products were provided for review. No monetary compensation was received for this review. All opinions belong to the author.