My combo skin is starting the awful makeup meltdown that comes along every year once the weather gets warmer. Makeup looks great in the morning, and by lunch time, my t-zone is shiny & my clogged pores get ready for a blemish fest. The problem isn't your makeup ( most of the time…)Â  It's your skin! Summer time = oily skin, right? How is makeup supposed to stay on when oily pores are getting in the way? I've tested some 'cures' for this vicious cycle, to keep my skin on point all summer long.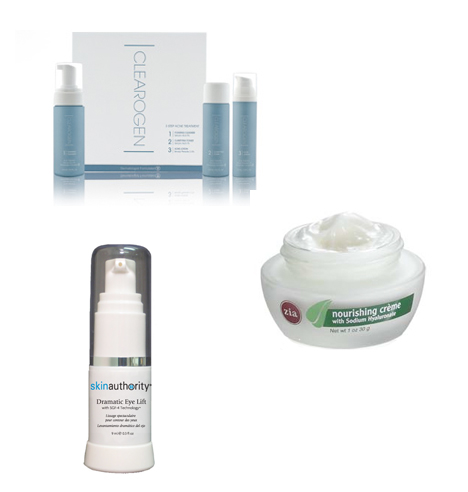 Clearogen: My normal routine: wash face, put on makeup, watch makeup melt away. I'm ready to stop this slick-skin cycle with the help of Clearogen. So far, it has taken no prisoners in its wham-bam system, formulated by Board-Certified Derm, Dr. Alex Khadavi. His thoughts? Stop the oil production at the source, by focusing on these three steps:
Inhibiting the conversion of Testosterone to DHT, thereby reducing excess oil production.
Blocking Androgen Receptors to prevent the stimulation of oil glands.
Opening the pores to attack bacteria, reducing pore redness and inflammation and allowing skin to heal from the inside out.
Learn more about this process here at Clearogen.com.  I've noticed a dramatic difference in the way my skin feels in general… and the life of my makeup application.  We recommend the 3 step kit for only $69.99 ( 2-month supply). Avail at Clearogen.com
For days that I've had a little sun, Zia's Nourishing Créme helps to heal, soothe & cure dry spots on my forehead, cheeks & chest, so my makeup goes on with an even tone. At night? I'll slather it on all over to keep skin cells feelin' nourished from this creamy paraben free formula. Especially helpful for soothing sun-scorched skin with Vitamin E, Aloe & Shea Butter.
$36.95 at ZiaNatural.com
Skin Authority's Dramatic Eye Lift for the peepers will help me fend off fine lines around the eyes, which I'm always more apt to get around the summer time with all of that sqinting in the sun!  This stuff is super concentrated – so only a wee bit will do, helping this last all summer long. My eye makeup goes on smooth & stays on all day – so my dark circles don't peek through at happy hour.
$120 at SkinAuthority.com
Disclosure: All products were provided for review. No monetary compensation was received for this review. All opinions belong to the author.